What's happened in the business of video games this past week ...
QUOTE | "PS Vita will die a horrible premature death."—Bossa Studios head Henrique Olifiers giving his provocative take on how Sony's new device will do in the market.
QUOTE | "Xbox 720 in 2012 would be a disaster."—Veteran games journalist Chris Morris talking about what Microsoft has to do to make the Xbox 720 a success.
QUOTE | "Quite frankly, this is cutting into my Skyrim time."—Epic design director Cliff Bleszinski, talking during the Spike VGAs, says Skyrim is now his favorite game since the original Zelda.
QUOTE | "I hope digital distribution stabs the used game market in the heart."—Chris Avellone, Chief Creative Officer for Obsidian Entertainment, on what he thinks about digital distribution.
QUOTE | "If more than half of people disagree with my opinion, I'm an idiot."—Analyst Michael Pachter talking about what it takes to be a game industry analyst.
G/O Media may get a commission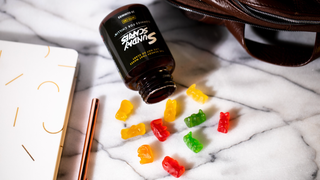 10mg CBD Gummies (22-Count)
STAT | 33%—Amount of total time on Wii that Wii users spend watching streaming video instead of playing games, according to a new study from Nielsen.
QUOTE | "Games will someday take over the world."—Sid Meier, designer of Civilization, talking about what he sees for the future of the gaming industry.
QUOTE | "PlayStation Move is tighter, cleaner and more precise."—Brian Upton, creative director on the upcoming Move title Sorcery, discusses why he thinks Move is better than Wii or Kinect.
QUOTE | "We're already achieving near PS3 cinematics."—Victor Harris, producer on Uncharted: Golden Abyss, talking about how Sony is in it for the long term with the PS Vita.
QUOTE | "Social gaming will see massive layoffs." - Rick Marazzani, head of content programming for Exent, talking about what the social game market will look like in 2012 as companies use more "belt tightening."
STAT | $3 Billion—Amount of game industry retail sales in November which is basically unchanged from 2010 despite huge Black Friday numbers and lots of hit software.
QUOTE | "No reason we can't build a company as big as Disney."—Rovio's Peter Vesterbacka talks about Angry Birds' continued momentum and how Rovio will build on that success.
This Week in the Business courtesy of IndustryGamers.com
---
(Image from Shutterstock)