QUOTE | "[You] can't sell sand at the beach." - American McGee, head of Spicy Horse, talking about Microsoft's plan to sell Xbox Ones in China, which he believes will fail for multiple reasons.
Elsewhere in the business of video games this past week ...
QUOTE | "VR is an incredible experience, the technology is here, and I think VR is here to stay this time." - Virtuix CEO Jan Goetgeluk, talking about the market for VR products and why he'd rather be early than late.
QUOTE | "I don't see a future for the subscription model." - Trick Dempsey, producer for the MMO Defiance, explaining why Defiance is becoming a fully free-to-play game in June.
QUOTE| "Because we call them 'games,' many people do not realize the vital role video games play in how our children learn in school and what young adults study in college" – ESA CEO Michael Gallagher talking about the growing importance of video game education across America.
G/O Media may get a commission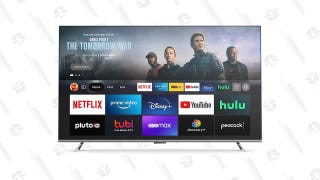 Save 46%
Fire TV 55" Omni Series 4K UHD Smart TV
QUOTE | "We have our moment, and that's something you really don't always get at the holiday with your brands." - Ubisoft SVP of sales and marketing Tony Key, talking about the pluses and minuses of delaying Watch Dogs from last holiday to this May.
STAT | 2.5% – Amount that Rovio's revenues grew in 2013 over 2012, to €156 million, mostly from Angry Birds; the company's profit dropped to €26.9 million, less than half of the previous year's profit.
QUOTE | "The TL;DR is really: if you're an indie developer, don't make multiplayer games." - Dan Marshall, developer of Gun Monkeys, advising indie developers to avoid creating multiplayer games for many reasons.
QUOTE | "If you want to sell 10 million or more copies of a console game, TV is not going away yet." - Activision VP of global brand marketing Jonathan Anastas, talking about how social media can't do everything when it comes to marketing games.
QUOTE | "Each game that we produce will be a separate, standalone, special purpose company." - Nick Baynes, founder of Ironfist Games, talking about the new business model he's bringing to game development.
QUOTE | "Free-to-play has been, and continues to be, so exciting because it's growing so rapidly." - Ben Cousins, veteran of DeNA and EA and now a consultant, talking about why he thinks F2P is overtaking the game industry.
QUOTE | "Honestly, students are too well prepared for crunch. Crunch happens due to poor planning, and most students do not excel at planning." - Jesse Schell, CEO of Schell Games and professor at Carnegie Mellon University's ETC, along with an ETC alum and student, talking about what students should get from a game education.