QUOTE | "I think one of the things that we won't be looking to do very soon is World of Dancing Unicorns." - Wargaming's head of EU marketing Keith Anderson, talking about what new games Wargaming will and will not be working on.
Elsewhere in the business of gaming this week...
QUOTE | "Halfbrick remains a design focused company and this change will empower everyone in our teams to contribute to design rather than concentrate design control in the hands of a few." - Halfbrick CEO Shainiel Deo, explaining how the company still plans to develop new "fun and innovative" mobile games after laying off all its designers.
QUOTE | "I'm pretty sure if a game has something interesting, it will find its public." - Digixart founder Yoan Fanise, talking about why he's not so concerned about the potential for an "indiepocalypse" that has many indie developers worried.
QUOTE | "As an industry, we've lost our internal compass for what 'good' even means any more." - Kabam's president of studios Aaron Loeb, talking about why mobile game developers need to decide what type of games to make for the more demanding audiences of today.
G/O Media may get a commission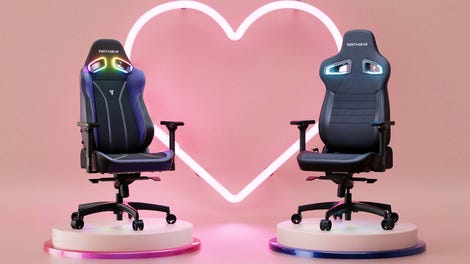 Up to $150 off
Vertagear Gaming Chairs
STAT | 30 million – Number of VR headsets projected to have shipped by 2020, according to research firm Juniper; Juniper expects VR "to transform the entertainment industry" With games and video being the major applications.
QUOTE | "I think there's a bit of skepticism right now with motion control so it might take a while to come back." - Smoking Gun Interactive CEO John Johnson, talking about why the developer is not working on more Kinect titles after doing 11 of them.
QUOTE | "We are still challenged somewhat with a censorship regime that we have to work with. This can be time-consuming." - Sony Computer Entertainment CEO Andrew House, talking about why the PS4 is off to a slow start in China.
QUOTE | "We usually don't comment on rumours but this one has become quite viral and we think it deserves to be put to bed. We are not talking with anyone regarding selling CD Projekt Red or GOG.com. Period." - CD Projekt Red co-founder Marcus Iwinski, talking about rumors the company is about to be sold to Electronic Arts.
STAT | 62% – Percentage of game industry employees who still consider crunch time to be an inescapable part of their careers, according to an IGDA survey; half of those working crunch are pulling 60 hours a week, with 17% clocking 70 or more hours per week.
QUOTE | "Where some may say the Apple TV has limitations, I instead see these limitations as solutions to problems which caused previous consoles to fail in gaining acceptance in the living room." - Game consultant Graham McAllister, explaining why he thinks Apple TV will do well with games.
QUOTE | "The NCAA recently informed EA Sports that these 13 student-athletes would be risking their eligibility for collegiate athletics by being included in FIFA 16. We do not agree with this position." - Electronic Arts, in a statement about why they removed 13 women from FIFA 16 who are attending NCAA-sanctioned schools.
STAT | $765 million – Global revenues expected from eSports in 2018, according to research firm Newzoo; the company expects eSports fans to total 165 million by 2018.