What's happened in the business of video games this past week ...
QUOTE | "Most people believe Nintendo is doomed like Sega." - Reacting to Nintendo's terrible mid-term earnings report, Panoptic Management Consultant's Asif Khan explains why Nintendo won't end up like Sega and why you should buy stock.
QUOTE | "Xbox 360 could most benefit from next-gen upgrade." - Examining launch strategies and who should make the move into next-gen first, DFC Intelligence's David Cole argues that Microsoft should take the plunge before Sony.
QUOTE | "Wii and DS have lost all momentum." - Wedbush Securities analyst Michael Pachter talks about the decline of Nintendo this year, how 3DS is "not making up the gap," and Nintendo's Blue Ocean strategy is failing.
STAT | 10 million – The number of copies EA shipped for Battlefield 3 in the first few days, as the company said the game had the largest day-one shipment of any video game in the publisher's history.
QUOTE | "User trends at Zynga are extremely troubling." - Zynga is still easily #1 in the social market, but the company has been hemorrhaging daily active users, as noted by Cowen and Company's Doug Creutz.
G/O Media may get a commission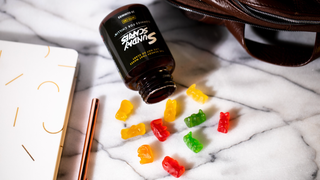 10mg CBD Gummies (22-Count)
QUOTE | "Mobile isn't going to swallow up video games." - Rockstar's Dan Houser weighs in on the growing mobile gaming trend, bashing the sector for being more focused on profits than actual game quality.
STAT | $1.4 billion – The whopping revenue figure that Wedbush Securities estimates the combination of Battlefield 3 and Modern Warfare 3 to produce for the industry this holiday season.
QUOTE | "No reason mobile won't replace the living room console." - Contributing to a new book on mobile games development, Quinn Dunki of developer One Girl, One Laptop Productions notes that mobile is the future of game development, as the devices keep getting more and more powerful.
QUOTE | "PSN outage has woken up dormant customers." - Sony executive Soichiro Saida explained the silver lining to the terrible PSN hack, noting that games revenue actually increased 14 percent.
QUOTE | "Blizzard doesn't have any opposition to freemium." - Blizzard COO Paul Sams talks about the growing free-to-play business model in MMOs and how his company isn't necessarily against the concept.
QUOTE | "Lines between competitor and partner hard to define." - David DeMartini, SVP of Origin at EA, reacts to questions about EA's Origin service competing with Valve's Steam now that Origin is hosting games from other publishers.
This Week In the Business courtesy of IndustryGamers.com
---
(Image from Ariwasabi/Shutterstock)