QUOTE | "[I]ncredibly disappointing" - Mad Catz CEO Karen McGinnis sums up the company's involvement with Rock Band 4.

Elsewhere in the business of gaming this week...
QUOTE | "[W]e've said publicly that some of our more recent games haven't met our expectations, and yet we're still here making games, so we obviously still believe in the potential." - Activision Publishing CEO Eric Hirshberg explains why Skylanders will continue even as concerns over toys-to-life convinced Disney to abandon the market.
STAT | 41 million - The number of Americans over the age of 50 who play games, according to a new survey conducted on behalf of the ESA and the AARP.
STAT | $110 million - Revenue generated to date by Psyonix's Rocket League. The developer attributes its continued to success to the practice of giving away substantial DLC, and only charging for cosmetic items that won't split the player base.
G/O Media may get a commission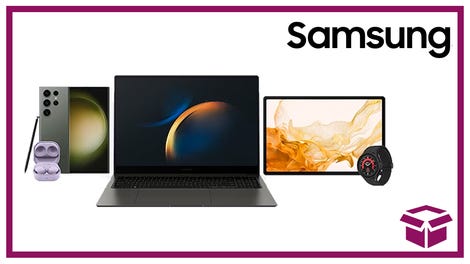 24 hour deals
Discover Samsung - Daily Deal
QUOTE | "People still have this idea that Facebook's place in the global games industry and business is somehow limited to games that you play on the web." Facebook director of global games partnerships Leo Olebe makes the not-at-all paranoia-inducing assertion that Facebook is "everywhere that gamers are."
QUOTE | "[W]hen we acquired EMI Recorded Music in 2012, the vast majority of artists had no hesitation in coming with us." - A Vivendi letter to employees of recent acquisition Gameloft touts its reputation for supporting creative talent. It made no mention of former subsidiary Activision Blizzard.
QUOTE | "To further commemorate this eventful day, we are freeing up the Black Market. Starting with the next update for Payday 2, any old generation safe will [stop dropping]. Any new generation safe will drop completely for free." - Payday 2 producer Almir Listo, announcing that with Starbreeze's acquisition of the Payday IP, controversial microtransactions that were added to the game last year are being removed.
QUOTE | "[M]ost virtual reality experiences can't mix real people, objects, and environments into the virtual world, making creation and collaboration difficult. This is because they lack the human, environmental and object understanding that is already built into Windows 10." - In promoting the decision to open up Windows Holographic to non-HoloLens VR and AR hardware, Windows and Devices Group executive VP Terry Myerson identifies the lack of Windows 10 as the sole factor holding back development of VR/AR hybrids when neither tech has figured out the basics on its own first.
QUOTE | "Ultimately, we could all wait years until there's an installed base and be like, 'Hey, finally, let's make something cool for the players to play,' and by then, people will have lost faith in the fact that something cool will come out on those platforms." - Ready at Dawn's Ru Weerasuriya lays out the long-term reasons for developers to take a risk on VR.
QUOTE | "We've lost a great one, and our hearts go out to his family, friends and everyone that had the great fortune to know him. DeMar will be truly missed." - An Electronic Arts statement about the death of former executive David DeMartini at 56. As head of EA Partners, DeMartini was key in signing up Harmonix's Rock Band and Valve's The Orange Box to the program. More recently, he joined Oculus VR as head of worldwide publishing.