QUOTE | "We want to get our hands on Destiny 2 as soon as possible like everybody else, so we offered to share our PC platform with our sister companies for this release." - Blizzard explains why the PC version of Destiny 2 will be exclusive to Battle.net, conveniently neglecting to mention that doing so means Activision Blizzard won't need to give Steam almost one-third of the game's revenue.

Elden Ring's Top Five Spells, According To FromSoftWare's Stats
QUOTE | "We are confident that the true nature of how we treat our employees and how we operate as leaders will shine through this unfortunate situation and confirm that these allegations are entirely without merit." - An UploadVR statement after the firm's former director of social media filed a sexual harassment against the company alleging—among other things—that the office had a designated "kink room" with a bed where male employees would have sex, often leaving underwear and condom wrappers behind.
QUOTE | "Creating a platform full of unique creators, and building the tools to allow those creators to make their channels safe spaces, have been guiding principles of Twitch since its inception. We're incredible proud that our users have adopted this mentality, building acceptance as a key part of what it means to bleed purple." - A Twitch statement about next week's TwitchUnityDay from someone who has apparently never seen the chat on a big event livestreamed over Twitch.
STAT | 15,000 - The number of members of the public who will attend the traditionally industry-only E3 expo this year on fan passes, which sold out this week. Those who still want in can purchase a Business Pass that grants some access perks and catered meals for $995.
G/O Media may get a commission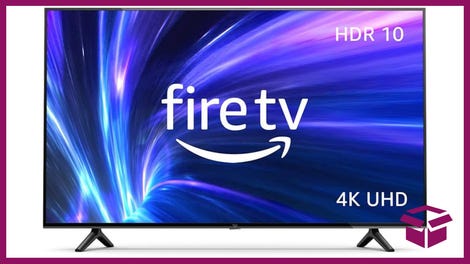 42% Off
Amazon Fire TV 50" 4K Smart TV
STAT | 1 - Consoles that sold better than Nintendo's recently cancelled NES Classic at US retailers in April. The retro console was second only to Switch. Earlier in the week, Nintendo said it was responsible for "almost half of all hardware sales" between the Switch and the 3DS family of systems. It made no mention of the NES Classic.
QUOTE | "I hope it's better than my Sea Quest." - Steven Spielberg, when shown the design for a level called Sea Quest in the little-remembered '90s MMO for kids Castle Infinity.
QUOTE | "What's very important to consider is there's a change in the way games are exploited in the market." - Ubisoft CEO Yves Guillemot explains why the company's move to games-as-a-service may mean it sells fewer copies and waits longer between installments in its big franchises without hurting the bottom line.
QUOTE | "There's Atari, Acclaim, Infogrames, Hasbro Interactive, 3DO and THQ. They all failed to change when change was required, resulting in complete collapse and failure not only to their own companies, but also causing massive damaging ripples across their partners and the industry." - Veteran UK developer Philip Oliver stresses the need to constantly adapt to a changing marketplace.
QUOTE | "It was great to have the games sell so many, and make us lots of money, but after all that time I started to long for games with more meaning to them. I also wanted more meaning in my work, and in game development in general." - Former Techland COO Pawel Zawodny explains why he left the Dead Island developer and the AAA space to form Strange New Things.
QUOTE | "If someone wants to crack Steam's dominance, they've got to get traction another way. It can't just be based on content. It has to work fundamentally different, support a different kind of developer, bring in a different audience or something like that." - Leaf Corcoran, creator of indie game storefront itch.io, says would-be competitors to Steam have mostly flopped because the only differentiator they've pursued is a few exclusive games.
QUOTE | "For me, it's not important to tell the details of the story" - The Last Guardian director Fumito Ueda explains his minimalist approach to storytelling in games, leaving gaps for the audience to fill in with their own imagination.