What's happened in the business of video games this past week...
QUOTE | "Definitely affects our bottom line." - PixelJunk developer Dylan Cuthbert on the financial impact the PSN outage is having on developers.
QUOTE | "PS3 sales won't be impacted at all." - Belief of analyst Michael Pachter that Sony's PSN fiasco actually won't harm PS3 hardware sales.
STAT | 11% - The people who are ditching PSN and PS3 in reaction to the outage and stolen personal info, per an exclusive IndustryGamers poll of 3,400 readers.
TWIST | Sony's reeling from the PSN fiasco, but lots of other companies have faced worse and bounced back—Tylenol cyanide deaths (1982), Mattel lead paint toy recall (2007), Toyota stuck accelerator pedal (2009), etc.
QUOTE | "A nightmare." - How David Cole of research firm DFC Intelligence assessed the PSN breach.
G/O Media may get a commission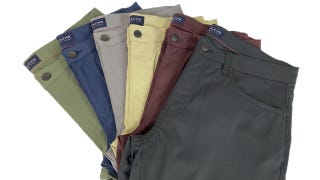 JACHS NY Fall Stretch Tech Pants
QUOTE | "Much like Sega's Dreamcast." - Stipulation by analyst Michael Pachter that Nintendo's Wii successor could suffer a similar fate as an "in-between console."
QUOTE | "Legs are shaking." - Former Apple games guru Graeme Devine's assertion that Nintendo and Sony are quaking in their boots over the rise of smartphone gaming.
QUOTE | "Carry the entire publishing infrastructure of MTV games." - Harmonix exec Greg LoPiccolo on the unfortunate burden the Rock Band studio dealt with.
STAT | 2.7 million – The number of Xbox 360s shipped (along with 2.4 million Kinects) in Microsoft's record fiscal third quarter.
STAT | 140 million – The number of downloads reached for Angry Birds, as Rovio eyes an additional 100 million in China.
QUOTE | "Deeply personal reaction." - EA Games boss Frank Gibeau describes how he reacts to game reviews and the upcoming fight between Battlefield 3 and Call of Duty.
This Week In Business courtesy of IndustryGamers.com
---
(Top photo: Shutterstock)