Lego has survived many battles in the great toy wars over the years, which probably helps explain why The Lego Movie finally came into existence earlier this year. If nothing else, this glorious short film by Adam Brown reminds us there are other types of plastic building toys out there with their own stories to tell:
These Great Fortnite Creative Maps Show Us What's Possible
Just look at all those adorable Construx-branded toys. Brown noted on his Tumblr that the movie took him more than a year to complete. Given the level of detail and the laser-sharp focus of Construxon Time Again, it's not hard to see why. In three-and-a-half minutes, it tells a story about two Construx guys crash-landing on a foreign planet, building themselves a robot, fighting other robots, populating a once barren world, sparking an industrial revolution of sorts, and firing off into space for a new adventure. They do all these things using only—you guessed—the magic of Construx toys.
The wonder! The amazement! The slightly disturbing implications of its autocratic and militaristic subtext! Man, watching Brown's movie really makes me want to go back in time and slap my child self on the wrist for moping whenever my mom bought me anything other than new Lego sets.
Also, just as a side note: The Creators Project, which is where I came across this stop-motion gem, captured a glorious moment from the film in GIF form that I'm guessing people at Kotaku will appreciate:
G/O Media may get a commission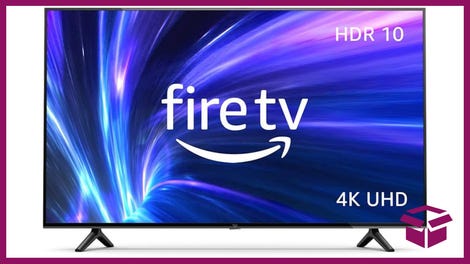 42% Off
Amazon Fire TV 50" 4K Smart TV
Now...please excuse me while I go fantasize about how awesome a bullet-hell-style shoot 'em up made with Construx would be.
Video and related GIFs via The Creators Project
To contact the author of this post, write to yannick.lejacq@kotaku.com or find him on Twitter at @YannickLeJacq.