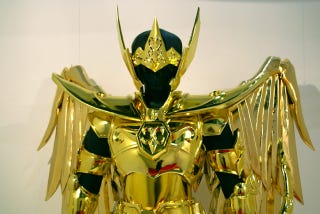 In Akihabara, Bandai Namco is showing off its latest line-up of Saint Seiya toys. Check out that life-sized Sagittarius armor!
The 1-to-1 scale armor is for display purposes only. And what an awesome purpose that is.
Bandai Namco is readying a Saint Seiya PS3 game for a 2011 release. Saint Seiya debuted as a manga in the mid-1980s and went on to spawn an anime, video games, and toys.
「魂ネイションズ AKIBAショールーム」で、等身大サジタリアスが展示中 聖闘士聖衣新作も [Moeyo.com]