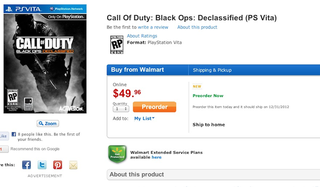 Mega-retailers Wal-Mart and Amazon have posted product information pages for Call of Duty: Black Ops: Declassified, the Vita-only version of Activision's popular shooter franchise.
The game is described as featuring an all-new campaign of "Special Ops Missions," as well as multiplayer tailored to the Vita. It's listed for $50, which is $10 more than most Vita games.
The full description reads:
Before the future could be won, history had to be written. Exposing that story exclusively on PlayStation Vita, Call of Duty: Black Ops Declassified explores original fiction in the Call of Duty Black Ops universe with an all-new campaign of Special Ops missions. Optimized for gamers on-the-go, Call of Duty Black Ops: Declassified delivers the most intense handheld Call of Duty experience to date, including both Special Ops Story mode and Multiplayer combat tailored for the PS Vita.
UPDATE - Activision PR has confirmed both the box art and info blurb, sending through this higher-res image.
Call of Duty: Black Ops: Declassified [Wal-Mart via NeoGAF]