As comic book and fighting game fans anxiously await the April 16 release of Injustice: Gods Among Us, NetherRealm Studios and Warner Bros. Interactive Entertainment deliver a tiny taste of the alternate-reality DC Universe battle royale in the form of a gorgeous little free fighter with collectible card tendencies.
You won't need a fighting stick for the iOS version of Injustice: Gods Among Us —two fingers will do quite nicely. Instead of one-on-one battles between DC's greatest heroes and villains, players assemble a mixed team of three characters and run them through a series of tap-and-swipe battles.
The fighting is pretty basic stuff. Tap three times to perform a combo, followed by a swipe motion to perform an attack that drops your foe. Filling the super meter unlocks powerful moves the mix up the swiping and tapping a bit, but on the whole it's nowhere near the complexity of an Infinity Blade (though the Unreal Engine 3 visuals are certainly up to par).
Fighting is only half the battle here. This Injustice: Gods Among Us is more collectible card game than fighter. The characters in your party are represented by trading cards, which gain levels and power as your battle. As you play you unlock enhancement cards, hero-specific items than enhance their powers in combat — Catwoman's claws, for instance. There are also support characters to collect, non-combat characters whose mere presence in your collection adds to your team's stats.
Each of the console game's characters is represented here in two different forms, each with their own unique attacks, costumes and animations. Unlocking them all requires coin, either slowly earned through battle or quickly earned through cash-injection. Other than impatience, there's no real reason to spend your hard-earned dollars — there's no multiplayer here, so there's no competition to try and outperform.
G/O Media may get a commission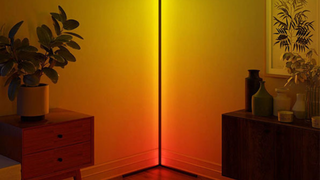 Save 60%
Minimalist LED Corner Floor Lamp
Despite the lack of multiplayer, the mobile version Injustice: Gods Among Us is a wonderful free treat for fans waiting to step into the ring with the Xbox 360, PlayStation 3 and Wii U versions next week, the perfect way to keep yourself occupied while you wait for the main event.
Injustice: Gods Among Us
Genre:Card-Based Fighting
Developer: NetherRealm Studio
Platform: iOS
Price: Free