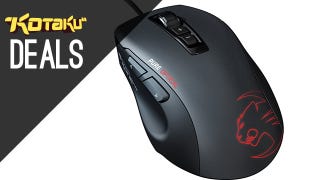 Roccat doesn't have the mindshare of Razer or Logitech, but they make some truly great gaming peripherals, including this Roccat Kone Pure Optical Core Performance Gaming Mouse. With adjustable DPI up to 4000, 7 programmable buttons, on-board memory, and customizable lighting options, there's a lot of gaming mouse in this $40 package. I can also tell you from personal experience that it's a very comfortable mouse, particularly that groove for your thumb. [Roccat Kone]
I'm currently using a Roccat mouse, keyboard, and headset for my frequently-rotating home gaming peripherals, and I'm a big fan of all of them.
Check out your fellow readers' favorite gaming mice while you're here.
---
This post is brought to you by the Commerce Team. We work together with you to find the best products and the best deals on them. We operate independently of Editorial, and we want your feedback.