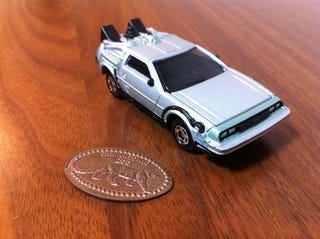 To: Crecente
From: Bashcraft
RE: Why We Don't Do Review Events
This is not mine. It's Mini-Bash's toy car, but I'll tell you what, if this had gone on sale in 1985, I would have been the happiest kid ever.
Instead, I'll have to settle with being in my early thirties and watching it roll across my desk.
That's a smushed penny from the San Antonio zoo for scale!
What you missed last night
The iPhone's Best Free Games Right Now
Victor Declared In Hack-Kinect Bounty Hunt
Which Version of Call of Duty: Black Ops Comes Out On Top?
Developer Changes Name Because The Old Name Was Dirty
Valve Is Killing The PC Market, Apparently