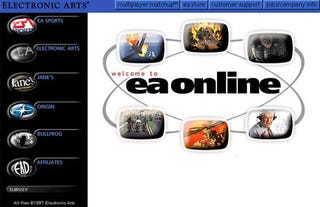 Some of you would have been very young in 1995. Some of you may not even have been born. Point is, it was a while ago, but even back then, in the mists of time, Electronic Arts had a website.
And this is what it looked like. Well, it's what it looked like in 1997, since pictures from the original launch aren't available. Crude, yes, barely functional, that's also something we'd describe it as, but for 1997 that looks pretty good, especially when you compare it to a website I built in 1997, which consisted of nothing but a couple of Simpsons .wav files and a Macross Plus wallpaper.
What's most interesting about the site is the sidebar on the left. Look at those companies! Origin, of Wing Commander and Ultima fame. Bullfrog, of Syndicate and Magic Carpet fame, who would go on to become Lionhead, and put out games like Fable. Those were some good times.
1UP have done us all a great service by finding the original press release from the site's launch in 1995, which is reprinted in its entirety below.
ELECTRONIC ARTS LAUNCHES WEB HOME PAGE

HOT NEW SITE IS HTTP: //WWW.EA.COM

Electronic Arts(R) (NASDAQ: ERTS), a leading global interactive entertainment software company, today announced the debut of its Home Page on the World Wide Web.

EA's Web site features audio and video clips, along with downloadable product demos for a sample of the latest interactive entertainment software from Electronic Arts. Browsers on the World Wide Web will be able to shop for software titles and custom Electronic Arts clothing on-line at the EA Store.

EA has developed a unique customer identification system that allows Web users to order products without sending their credit card numbers over the Internet.

"We've taken extra measures to keep customer credit card information behind our 'fire wall,' and off the Net," stated Lisa Rodrigues, EA's Manager of Online Services.

Another unique feature of EA's Web site is the interactive entertainment industry's first on-line product ratings. Located at http://www.ea.com/ratings.html, Electronic Arts has provided information on the ratings of all its products shipped since December 1994 when the Interactive Digital Software Association (IDSA) rating system began. Rodrigues noted, "Since Electronic Arts was one of the leaders in establishing an industry-wide rating system, we felt it was important that consumers had access to this information on line, not just in the stores."

Electronic Arts supports the broadest array of platforms in the interactive entertainment industry. As a result, the company's Web site has pages for products available on 32-bit advanced entertainment systems like Sony(R) PlayStation(TM), Sega(TM) Saturn(TM) and 3DO(TM) Interactive Multiplayer(TM), IBM-compatible PCs and Macintosh(R) computers, as well as dedicated game machines such as Sega(TM) Genesis(TM) and Super NES(R). EA's customer support page provides answers to frequently asked questions (so-called FAQs) in an on-line answer book for customer service queries.

Electronic Arts (EA), headquartered in San Mateo, is a leading interactive entertainment software company. Founded in 1982, EA posted revenues of over $490 million for fiscal 1995. The company markets its products worldwide under four brand names: EA Sports (TM), Electronic Arts Studio(TM), Bullfrog Productions Ltd. and ORIGIN Systems Inc. Electronic Arts has wholly-owned subsidiaries in the United Kingdom, France, Germany, Spain, Australia, Canada, Puerto Rico and Austin, Texas.

Note to Editors: Electronic Arts is a registered trademark of and EA SPORTS and Electronic Arts Studio are trademarks of Electronic Arts. 3DO and Interactive Multiplayer are trademarks of The 3DO Company.
I haven't seen the word 3DO printed in one place so many times since I was in high school.