Each year the very best Pokémon video and trading card game players meet at the World Championships to determine who the top trainers are, and each year the Masters (oldest) Division looks really awkward on stage. This year did not disappoint.
I am so used to working on the weekends that I completely missed this year's competition, which is a pity, because the only thing I love more than watching young, kind children compete against each other good-naturedly is watching the older competitors try to keep their language in check for the family-friendly crowd. Thankfully The Pokémon Company put together a tasteful recap video of the San Francisco event, reminding us of why people go to these things in the first place.
This may come as a surprise to you folks, but Japan and the United States dominated this year, with three World Champions each. The U.S. swept the video game portion of the program, each first place winner taking home $10,000. Japan took two of the Trading Card Game spots, Juniors and Masters, while Denmark snuck in to grab the Senior division, with grand prizes of $25,000 each (you can check out prize breakdowns here).
Japan also took the Masters division of the inaugural Pokken Tournament competition, while the UK represented for the younger division.

G/O Media may get a commission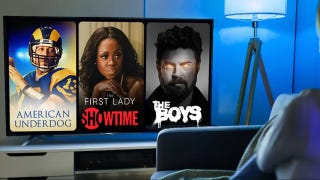 UNDER $1
99¢ Prime Video Channels
Congrats to all the winners!
2016 POKÉMON TRADING CARD GAME WORLD CHAMPIONSHIPS
Junior Division Finalists (born in 2005 or later)
World Champion: Shunto Sadahiro (Japan)

Second Place: Riku Ushirosako (Japan)
Senior Division Finalists (born in 2001–2004)
World Champion: Jesper Eriksen (Denmark)

Second Place: Connor Pedersen (United States)
Masters Division Finalists (born in 2000 or earlier)
World Champion: Shintaro Ito (Japan)

Second Place: Cody Walinski (United States)

2016 POKÉMON VIDEO GAME WORLD CHAMPIONSHIPS
Junior Division Finalists (born in 2005 or later)
World Champion: Cory Connor (United States)

Second Place: Shu Harasaki (Japan)
Senior Division Finalists (born in 2001–2004)
World Champion: Carson Confer (United States)

Second Place: Yuki Wata (Japan)
Masters Division Finalists (born in 2000 or earlier)
World Champion: Wolfe Glick (United States)

Second Place: Jonathan Evans (United States)

2016 POKKÉN TOURNAMENT WORLD CHAMPIONSHIPS

Senior Division Finalists (born in 2001 or later)
World Champion: Josh Simmonite (United Kingdom)

Second Place: Dale Causey (United States)
Masters Division Finalists (born in 2000 or earlier)
World Champion: Masami Sato (Japan)

Second Place: Takuma Araki (Japan)