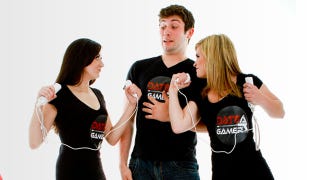 A site called Date a Gamer has just gone live in the UK, with a "particular slant for helping Gamers hook up".
"Whether you want to date an online player, meet up with fellow geeks, or get some nookie just before you get into another Call of Duty session - this is your site!", a blurb on its front page reads.
"Gaming is hot. So don't stay single any longer. Come in and play."
It's free to join. So I joined. Don't tell my wife.
What I found was, whaddyaknow, not much of a dating site for gamers. Most profiles seemed to belong to women aged between 30-60, and there's not a single mention of video games to be found in them, either as a designated response or as part of their self-written descriptions.
So, yeah, it's just a gaming shell for an existing service. Sorry, desperate and dateless British gamers. You're going to have to stick to hooking up in a forum or over instant messaging. You know. The old-fashioned way.
Date a Gamer [Official Site, via Eurogamer]