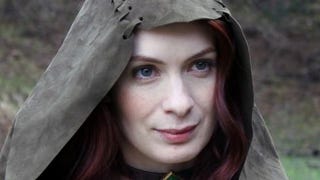 Felicia Day, of Buffy and The Guild fame, has not only written but will star in a new live-action series based on BioWare's fantasy RPG franchise Dragon Age.
The series, which comprises six parts and will run online later this year, is based around the adventures of Tallis, a character Day created specifically so...she could play it.
"Tallis is headstrong, she fights dirty, and she has a really sarcastic sense of humor," says Day. "I wanted to bring a modern sensibility to a fantasy character in a fantasy world."
Filming on the series has already been completed, with Redemption being directed by Peter Winther (who produced on Independence Day) and cinematography duties being handled by Lost's John Bartley.
You can get your first look at Day in the role in the pic below.
Felicia Day breathes fire into 'Dragon Age' series [USA Today]