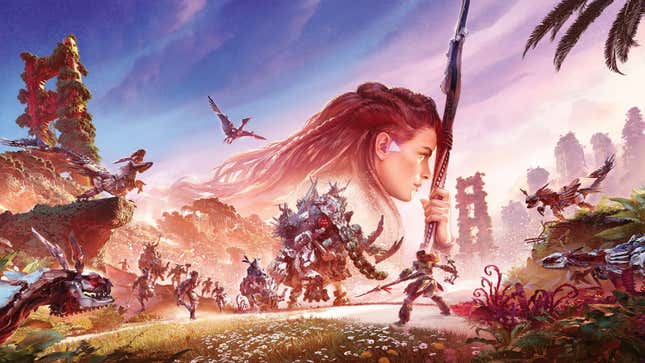 It's time for another large open-world game. Have you had enough time to finish the last one? Well, regardless, Horizon Forbidden West releases on PS4 and PS5 this Friday.
Street Fighter 6 Has The Best Training Mode I've Ever Seen
I've been watching someone play through the first Horizon game on PS5 and besides it looking and running a lot better, I'm realizing just how much of that game I enjoyed. Honestly, watching the first game is getting me more excited for the sequel than any of the trailers or videos have. Now, I just need to carve out time to play it.
Here's all the stuff coming out this week:
Monday, February 14
Infernax | PS4, Xbox Series X/S, Xbox One, Switch, PC
Heart of the Woods | PS5, PS4
River City Girls Zero | Switch
Monster Prom 2: Monster Camp XXL | Switch
Smash Star | Switch
Tuesday, February 15
Holy Purge | PC
Dynasty Warriors 9 Empires | PS5, PS4, Xbox Series X/S, Xbox One, Switch
Liberte | PC
Super Dungeon Maker | PC
Nimbus: Infinity | PC
Wednesday, February 16
Beat Souls | Switch
Tax Fugitive | Switch
Spellmaster: The Saga | PC
Thursday, February 17
The King of Fighters XV | PS5, PS4, Xbox Series X/S, Xbox One, PC
Total War: Warhammer 3 | PC, Mac, Linux
From Heaven To Earth | Xbox One, Switch
Voice of Cards: The Forsaken Maiden | PS4, Switch, PC
Assassin's Creed: The Ezio Collection | Switch
Duggy | Switch
BigChick | Switch
Mr Maker 3D Level Editor | Switch
Light Up The Room | Switch
Fluffy Cubed | Switch
Red Colony 3 | Switch
Upaon: A Snake's Journey | Switch
Trash Sailors | Switch
The Table Game | Switch
Friday, February 18
Super Toy Cars Offroad | Xbox Series X/S, Xbox One, PC
Rover Mechanic Simulator | Switch
Horizon Forbidden West | PS5, PS4
Gravity Runner | Switch
Gem Wizards Tactics | Switch
Mages and Treasures | Switch
Spaceflight Simulator | PC
Saturday, February 19
Choice of Life: Middle Ages | Xbox One