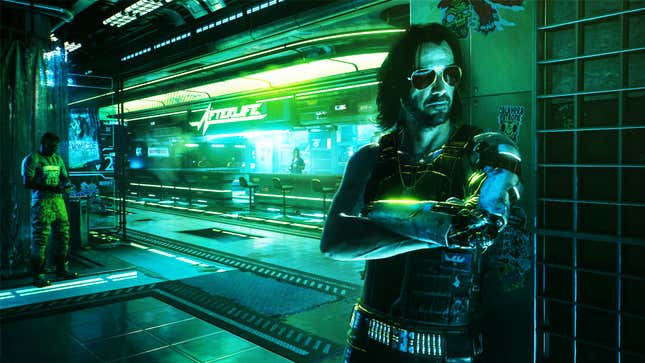 After countless delays, literal years of hype and trailers, and a ton of controversy, Cyberpunk 2077 is here. Easily the most anticipated game of the year for a lot of folks, Cyberpunk 2077 featuring Keanu Reeves drops later this week on PS4, Xbox One, PC and Stadia.

Elden Ring's Top Five Spells, According To FromSoftWare's Stats
I'll be sitting out Cyberpunk 2077 for now. I feel like I've played way too many open-world games recently and need to finish what I have before jumping into another one. And I'm also going to wait for the next-gen ports of Cyberpunk 2077, because I'm not super hyped and I can wait a few months or more to play a better version.
Beyond Cyberpunk 2077, other stuff is coming out this week too. Not much though. Almost like a bunch of developers and publishers bailed out of this week to avoid something...
Check out the full list below:
Monday, December 7
Drawn to Life: Two Realms | Switch, PC
Slapshot: Rebound | PC
Tuesday, December 8
Monster Sanctuary | PS4, Xbox One, Switch, PC, Mac
Puyo Puyo Tetris 2 | PS5, PS4, Xbox Series X/S, Xbox One, Switch
Destiny 2 | PS5, Xbox Series X
Doom Eternal | Switch
Swords of Gargantua | PS4
Call of the Sea | Xbox Series X, Xbox One, PC
Temtem | PS5
Lofi Ping Pong | Switch
Heroes of Loot | Switch
Wednesday, December 9
Do Not Feed The Monkeys | Xbox One
I, AI | Xbox One
Unto the End | PS4, Xbox One, PC
Ghostrunner | Switch
Thursday, December 10
Brigandine: The Legend of Runersia | PS4
Cyberpunk 2077 | PS4, Xbox One, PC, Stadia
PixelJunk Eden 2 | Switch
Orwell's Animal Farm | PC
Accidental Queens Collection | Switch
Evolution Board Game | Switch
Tanuki Justice | Switch
OctaFight | Switch
Alt-Frequencies | Switch
Friday, December 11
Panzer Dragoon Remake | Xbox One
Alba: A Wildlife Adventure | PC
Medal of Honor: Above and Beyond | VR
My Hidden Things | Xbox One
SiNKR 2 | Xbox One
Cybercrush 2069 | PC
Warplanes: WW1 Sky Aces | Switch
Autumn's Journey | Switch
Splashy Cube | Switch
Persian Nights 2: The Moonlight Veil | Switch
---
Note: Nearly all PS4 and Xbox One games will work on the next-gen counterparts, so unless a game has an enhanced or separate next-gen release I won't be listing PS5 and Xbox Series X/S.