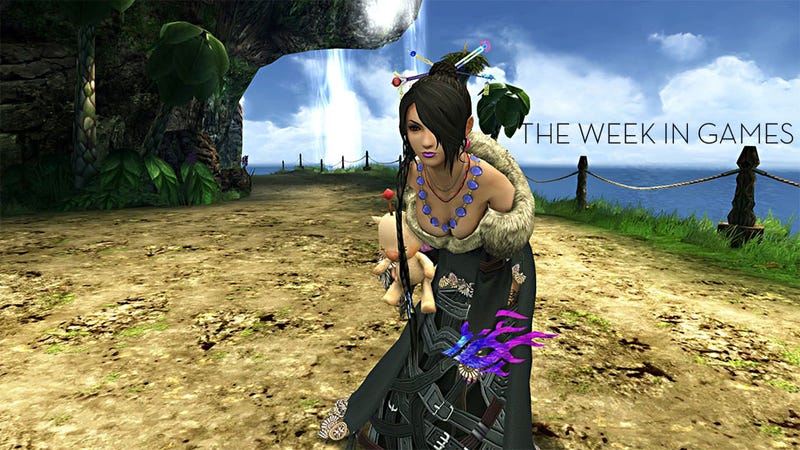 Three Final Fantasy games are coming out this week, but one is the worst thing ever and the other two are remastered remasters.
Final Fantasy IV: The After Years hits Steam tomorrow, bringing the game that Kotaku's Jason Schreier says "sucks" to PC players for the first time. Good for them? Meanwhile, on the PlayStation 4, the PlayStation 3 remaster of Final Fantasy X and Final Fantasy: Dress Up Fahey Fantasy gets remastered just a little bit more. It's the definitive remastering of the remaster, the one I would have bought last year if it had only existed, dammit.
Thankfully many non-Final Fantasy games come out this week as well is a sentence I never thought I'd write.
Monday, May 11
Final Fantasy IV: The After Years — PC
Tuesday, May 12
Project Cars — PS4, Xbox One
Final Fantasy X/X-2 HD Remaster — PS4
Toren — PS4, PC
Ultratron — PS3, PS4, Vita (Cross-buy)
Attack on Titan: Humanity in Chains — 3DS
ArcaniA: The Complete Tale — PS4

Breach & Clear — Vita

Color Guardians — PS4, Vita

Lost Orbit — PC, PS4
Nom Nom Galaxy — PS4

Schrödinger's Cat and the Raiders of the Lost Quark — PS4

Thursday, May 14
Knights of Pen and Paper 2 — PC (also iOS and Android)

Axiom Verge — PC
Not A Hero — PC
Funk of Titans — Wii U eShop
Nihilumbra — Wii U eShop

Friday, May 15
Blues and Bullets — Xbox One

Coming Soon
Tuesday, May 19
The Witcher III: Wild Hunt — PC, PS4, Xbox One
Farming Simulator 15 — PS3, PS4, Xbox 360, Xbox One
Hyperdimension Neptunia U: Action Unleashed — Vita

Destiny: House Of Wolves — PS3, PS4, Xbox 360, Xbox One
Friday, May 22
Puzzle & Dragons + Puzzle & Dragons Super Mario Bros — 3DS

Did I miss anything important? Anything you're looking forward to on Steam or mobile? Sound off in the comments section, which is swimming with gravy.