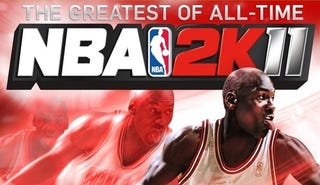 After nearly seven years away from video games, Michael Jordan makes his triumphant return this week in NBA 2K11. NBA Jam has no Jordan but it has no shortage of nostalgia and enthusiasm, either.
Sunday, Oct. 3
Monday, Oct. 4
FIFA Soccer 11 (Wii)
Pokemon Ranger: Guardian Signs (DS)
Tuesday, Oct. 5
Also: Ben 10 Ultimate Alien: Cosmic Destruction (DS, PS2, PS3, PSP, Wii); Borderlands: Game of the Year Edition (PC); Def Jam Rapstar (PS3, Wii, Xbox 360); Enslaved: Odyssey to the West (PS3, 360); Final Fantasy: The 4 Heroes of Light (DS); Freddi Fish And Friends: ABC Under The Sea (DS); Haunted House (Wii); Hollywood Squares (Wii); I Love Puppies (DS); Jewel Master: Cradle of Athena (DS); Jewels of the Tropical Lost Island (DS); John Daly's ProStroke Golf (PS3); Littlest Pet Shop 3: Blue Team (DS); Littlest Pet Shop 3: Pink Team (DS); Littlest Pet Shop 3: Purple Team (DS); Oops! Prank Party (Wii); Petz Fantasy: Sunshine Magic (DS); Rapala Pro Bass Fishing 2010 (PS3, Wii, 360); Sports Collection (DS); Vampire Moon: The Mystery of the Hidden Sun (DS); Way of the Samurai 3 (PS3); Who Wants to Be a Millionaire: 3rd Edition (DS, Wii).
Wednesday, Oct. 6
Comic Jumper: The Adventures of Captain Smiley (XBLA)
Looking Ahead
Oct. 12: Super Scribblenauts, Medal of Honor. Oct. 17: Kirby's Epic Yarn. Oct. 19: Fallout: New Vegas, Pro Evolution Soccer 2011, Vanquish, EA Sports MMA. Oct. 26: Fable III. WWE SmackDown vs. Raw 2011. Star Wars: The Force Unleashed II. Rock Band 3.
What are you getting? What do you want? What are you looking forward to? Sound it off below, and at #twig.