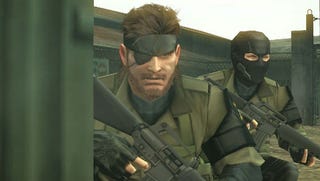 The PSP takes the spotlight with the platform-exclusive Metal Gear Solid: Peace Walker this week. Tiger Woods returns from a bruising year in the tabloid eye with his latest console offering, and Green Day goes on tour with Rock Band
Monday, June 7
Tuesday, June 8
Green Day: Rock Band (PS3, Wii, 360) - The latest band-themed rhythm games brings the punk act to Rock Band with a three-album "sculpted experience."
Metal Gear Solid: Peace Walker (PSP) - The newest installment of the Metal Gear saga goes back to the 1970s with Naked Snake.
Tiger Woods PGA Tour 11 (iPhone, PS3, Wii, 360) -This year's professional golf sim adds team play events such as the Ryder Cup.
Wednesday, June 9
Earthworm Jim (Xbox Live Arcade)
Also: Joe Danger (PS3); Call of Duty: The War Collection (360); Disgaea Infinite (PSP); Mega Man Zero Collection (DS); Mind Over Matter (DS); Prince of Persia: The Forgotten Sands (PC)
Looking Ahead
June 15: (E3, no major releases). June 22: Transformers: War for Cybertron. June 29: Lego Harry Potter: Years 1-4, Singularity, Naughty Bear, APB, Mass Effect 2 Overlord DLC. July 6: Crackdown 2.
What are you getting? What do you want? What are you looking forward to? Sound it off below, and at #twig.