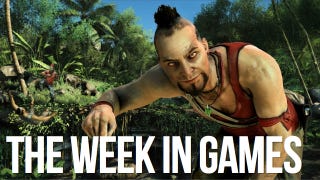 The release calendar perks up this week before its customary winter hibernation. Far Cry 3 is out for consoles and PC. The Mass Effect Trilogy is available on PS3 (correction: it's already out on 360), and there's the Dragonborn DLC for Skyrim on Xbox 360.
Monday
• Waking Mars (PC)
Tuesday
• Guardians of Middle-earth (PS3)
• Far Cry 3 (360, PS3, PC, PC download)
• Mass Effect Trilogy (PS3)
• Marvel Avengers: Battle For Earth (Wii U)
• Rise of the Guardians: The Video Game (Wii U)
• 007 Legends (Wii U)
• Power Rangers Samurai (360)
• The Elder Scrolls V: Skyrim - Dragonborn (DLC for 360)
• Page Chronica (PS3)
• Guilty Gear XX Accent Core Plus (PSN)
• Family Party 30 Great Games: Obstacle Arcade (Wii U)
• Rapala Pro Fishing 2012 (Wii U)
• Cabela's Dangerous Hunts 2013 (Wii U)
• Uncharted: Fight for Fortune (Vita)
Wednesday
• Resistance Collection (PS3)
Thursday
• Shadow of the Game (PC)
• A Game of Dwarves: Star Dwarves (PC)
Friday
• We Sing Pop (Wii)
---
Follow Dealzon on Twitter.