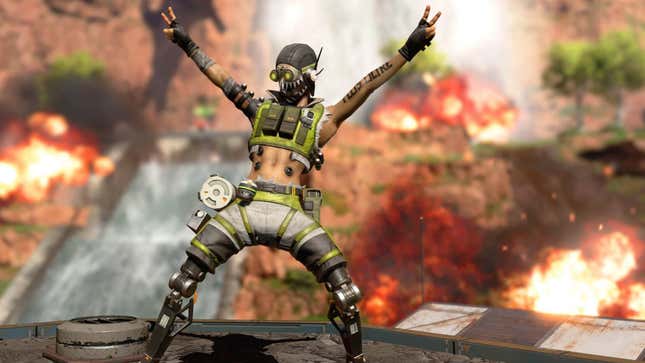 Mark a spot on the map, grab some guns, and get ready to (hopefully) be the last team standing when Apex Legends comes out for free on Switch later this week.
Hollow Knight: Silksong's New Gameplay Trailer Is Living Rent-Free In Our Brains
I played about three weeks of Apex Legends when it first came out and I enjoyed my time with it, but like all battle royales soon got bored. The grind of having to always find more weapons and gear just makes me tired. I've tried them all at this point, besides Hyperscape, and I keep bouncing off them after a few weeks. Give me a big team battle in Halo instead.
Beyond Apex Legends on Switch, other stuff is coming out this week too. Check out the full list below:
Monday, March 8
Noble Armada: Lost Worlds | Switch
Tuesday, March 9
Stronghold: Warlords | PC
Apex Legends | Switch
Pacer | Xbox One
Forza Horizon 4 | PC (Steam)
Wednesday, March 10
Thursday, March 11
Doodle Devil: 3volution | PS5, PS4, Xbox One, Switch, PC
Monster Energy Supercross - The Offical Video Game 4 | PS5, PS4, Xbox Series X/S, Xbox One, PC
Cyanide & Happiness - Freakpocalypse | Switch, PC, Mac
Astellia Royal | PC
No Reloaded Heroes Enhanced Edition | Switch
Chained | Switch
Battle Brothers - A Turn-Based Tactical RPG | Switch
Bob Help Them | Switch
Multi Quiz | Switch
A Day Without Me | Switch
Bloody Bunny, The Game | Switch
Crash Bandicoot 4: It's About Time | Switch
WRC 9 The Offical Game | Switch
Bishoujo Battle Cyber Panic! | Switch
Alchemist Simulator | Switch
Smash Club: Streets of Shmeenis | Switch
Sapper - Defuse The Bomb Simulator | PC
Friday, March 12
Journey of the Broken Circle | PS4, Xbox One
Dead Age II | PC

Heaven Dust | Xbox One
SELF: Where's My Father | Xbox One
Pascal's Wager: Definitive Edition | PC
Crash Bandicoot 4: It's About Time | PS5, Xbox Series X/S
Sokodice | Switch
Pinkman+ | Switch
Bloodroots | PC (Steam)
Siralim Ultimate | PC
Explorer of Yggdrasil | PC