It's hard for any other gaming app to shine when Rovio releases the first true sequel to the physics game that's captivated millions of fans across the globe. Good thing there's five Gaming App of the Day slots every week.
Now I'm not saying the makers of Star Warfare, MotoHeroz HD, Abduction! World Attack and TrafficWonder aren't deserving of their spots in our daily salute to mobile games; each has their own unique strengths and weaknesses that make them worth of the title of Gaming App of the Day.
I'm just saying I like gift baskets, though I am on a diet so I prefer fruit over chocolate. Or chocolate over fruit, since the fruit negates the calories.
If you have a suggestion for an app for the iPhone, iPad, Android or Windows Phone 7 that you'd like to see highlighted, let us know.
G/O Media may get a commission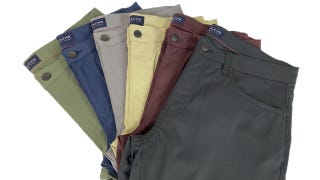 JACHS NY Fall Stretch Tech Pants
Look, for the most part, there's nothing terribly remarkable about iPhone shooter Star Warfare. Its visuals are nice, if hardly top-shelf in this post-Infinity Blade world. Its structure, while taking enough cues from Horde mode games to be enjoyable, isn't pushing the idea anywhere new. More »
---
Some mobile games are built to be nothing but diversions, pointless timekillers for subway rides and doctors' appointments. Others are good enough to keep you up all night. More »
---
Dev studio RedLynx created a genuine phenomenon with their physics-happy motorbike racer Trials HD. That Xbox 360 exclusive turned hordes of gamers into obsessive-compulsive stunt riders, trying to notch ever better performances out of their thumbs. More »
---
You've read all about Angry Birds Space in our explainer article, now watch me play it as we officially give Rovio's latest and greatest a nod as our Gaming App of the Day. More »
---
Abduction! World Attack is not new. It's not complicated. And it's not super HD. But it is silly, fun, cute, and addictive, which makes a great combination. More »
---