There's something about the villager. Something sinister. Something hilarious. Something, frankly, troll-ish—which means he's a blast to watch in action now that the game is out.
It's a combination of things. With such a happy-go-lucky face, and with such cutesy animations...
G/O Media may get a commission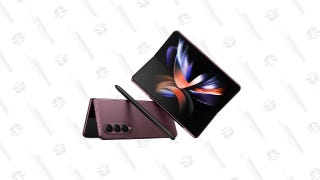 Save Up to $300
Galaxy Z Fold4
...I can easily see it being downright infuriating to play against the villager—especially when you consider his moveset. Said moveset includes things like breaking pots on you, chopping down a tree, and bugging you with a slingshot. Plus, my favorite: pocketing things. You can use the villager to pocket nearly any projectile, a move that is as amazing as it is absurd. The potential for mind games is incredible.
I mean, HE CAN POCKET A FUCKIN FINAL SMASH. WHAT IS THIS, EVEN:
EDIT: Mind, this doesn't mean he can throw it back out—the animation simply gives him invincibility frames, as this video explains:
Still, pocketing can be used to create ridiculous situations such as this one:
You can see all these things come together to make an fantastic character...
....especially when played by pro-level players such as ZeRo:
Poor DeDeDe player. What is one to do when The Villager can simply pocket your spikeys? Or worse, be a total asshole with his slingshot?
The Villager's combos are looking fantastic, too:
I'm looking forward to playing The Villager tons, if you couldn't tell. I anticipate lots of shenanigans. What about you?