This March will mark the third straight year in which Tiger Woods is not the sole star on the cover of a video game named Tiger Woods. But that shouldn't suggest that the golfer, winless since an embarrassing marital scandal broke two years ago, is being eased out by EA Sports.
What's more likely, even if they aren't saying as much, is that the label is experimenting to find the best course of action when Woods, who turns 36 in December, is in his 40s and settling into an inevitable decline.
Some may argue he's already there; but even as he battles back from injury, many still believe he'll add to his 14 major championship victories, and that's why Woods remains the world's most dominating golf personality even if he's its No. 55 golfer.
"Tiger is still the masthead of our game," Craig Evans, EA Sports' director of marketing for the Tiger Woods series, told me. "His name's on it, he's still pictured on it. We're also building out an entire feature in the game [meaning Tiger Woods 13] on the legacy of Tiger Woods and the impact he's had on the world of golf."
"It's an amazing departure from what we've done in the past," Evans promised. "It's going to strike you, 'Why didn't they do something like that earlier?' Really, there's no good answer why we didn't do it earlier."
G/O Media may get a commission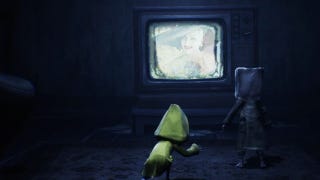 Horror Video Games to Play Leading Up to Halloween
Spooky and scary
Something video games have over their film counterparts when it comes to horror is the player's agency. Sure, watching the slasher claim their next victim can get a jumpscare out of you, but you know what's scarier? Knowing you had the power to stop it. Watching someone slowly open a door and enter a dark room is unnerving, but having to do it yourself will send shivers down your spine and paralyze you with fear.
Woods will share the cover with the U.K.'s Rory McIlroy on European (and PAL) versions of the game, and he'll be paired with Rickie Fowler on the North American (NTSC) cover. The decisions were the result of a vote-off similar to ones EA Sports conducted for Madden NFL 12 and NCAA Football 12 also made at the same studio where Tiger Woods PGA Tour is built.
Fowler has one professional victory, and it's not on the PGA Tour. McIlroy registered a dominating performance at this year's U.S. Open but won't appear on the video game cover in the United States. The lack of a dominant American star (meaning no offense to Phil Mickelson) is why Woods, even injured and winless for the past two years, is still a featured name in every tournament in which he appears.
Yet I think EA Sports realized back in 2010, regardless of Woods' personal scandal, that it has to start blending in current golfers, if not to get the year's big winner on the box, then at least to change things up after a dozen editions (1998 to 2009) with the same guy on the box. Not even John Madden, the guy whose name has been on a sports video game box longer, had that kind of cover shot run.
Tiger Woods and Rory McIlroy shared the cover in 2010. Woods did not appear on the box shot for the main game last year (but did on the special edition.)
Tiger shared the front with McIlroy in Tiger Woods PGA Tour 11, touting the game's new team-play format. Last year, he did not even appear on the main case as Augusta National took top billing. (Though a golfer appearing to be Woods, in the distance, was shown teeing off on Augusta's iconic No. 12. The special edition PS3 cover for 12, however, featured a closeup of Woods.)
Woods has held onto the cover of a video game for longer than he held the world's No. 1 ranking, and as events of the past two years have shown, it's not a title he can lose simply because he's not winning any. John Riccitiello, the chief of all of Electronic Arts, suggested Woods needed to start winning, back in 2010. But there was never any implied threat to his relationship with the publisher, even as other sponsors were parting ways as his affairs with more than a dozen women came to light. EA Sports and Woods stuck together and have weathered the worst.
Still, this is a video game that must figure out what it's going to do for a title star who is still presented as the world's No. 1 golfer when, in real life, he is far from it. As much as I adore Tiger Woods PGA Tour 12: The Masters, it conspicuously overrates Woods in the game's career mode. Inevitably, you are battling him for No. 1 in the tour and in the world standings. If you don't have the most Tour victories, he will. In major tournaments, when you're going into the final round, it will send Tiger after you, if not pair you with him on Sunday. It makes for some exciting video game golf, sure, but after two years with no wins, it's detached from reality.
Perhaps that is the origin of the new feature Evans speaks of. It may be that we're seeing Woods graduate into a presence admired more for his career—and if he never won again, still would be the greatest golfer of the past 25 years, and one of its top three ever. If Woods is in decline as the best golfer in the present, the game can draw on his virtually permanent reputation as one of the sport's best ever.
***
Because of that permanent reputation, there is no reason why Woods cannot be the face of this product forever. He is the Madden of his sport, a comparison that sounds silly until you recall either saying, or hearing it said, "I'm gonna play some Tiger." He's plainly a global brand and, in video games, he is more than synonymous with the sport. His name is also the name of a game itself.
It's a relationship that's stretched 15 years, so both sides obviously know each other and work well together. Only if Woods loses interest in making a video game or demands too much money—who knows what future gaming products will be like, and what royalties must be paid—could I imagine the two sides parting ways. It's the only PGA Tour-licensed simulation, they're both making a lot of money off it, and they'd be stupid to push each other away.
But they both have to think into the future, and if they're not having that conversation now, it needs to happen. Whether or not he can effect a comeback, Woods and EA Sports probably should take this lull, and McIlroy's emergence, and other developments, as a good time to test out not just how the game is marketed, but also how Woods will appear within it when he is an elder statesman of golf. I think that's what we're seeing now, and will see in March when the next edition arrives.
Stick Jockey is Kotaku's column on sports video games. It appears Saturdays.