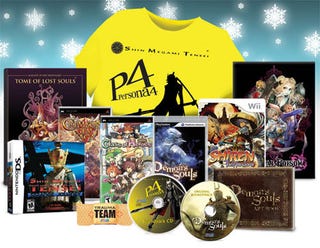 Twelve days - twelve fabulous prizes. Atlus keeps the holiday spirit alive well into 2010 with twelve days of random prize packages for members of the Atlus Faithful.
Look at that JPEG, filled with wondrous prizes. Atlus has bundled up twelve unique prize packages filled with some of those items and is giving them away to certain fans of Atlus titles. Which fans? Only the truest....the bravest...the ones willing to sign up for the Atlus Faithful mailing list. Yes, simply adding your name to a list can score you one of the twelve packages, with one given away every day starting January 4th.
It's a rather lovely assortment too. There's plenty of swag from Demon's Souls, Luminous Arc, and Persona 4, including art books, t-shirts, and soundtrack CDs. Hell, they're giving away the soundtrack to Rule of Rose, as well as copies of upcoming games like Shin Megami Tensei: Strange Journey and Shiren the Wanderer.
Hit the link below to see a list of prizes, rules, and to sign up for the Atlus Faithful. Seeing as Atlus will often send out press releases to the fans before the press, it's almost silly not to be a member.
The Twelve Days of Atlus [Atlus]