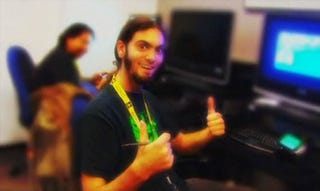 Sony's PSN reality show, The Tester, has gamers compete for a "gamer's ultimate dream job" — no, not running one of the major platform holders as they seem fit, but as a QA tester. Yeah.
The eight episode show will be produced by the folks behind The Surreal Life, Flavor of Love and Rock of Love.
As we previously posted, the PSN show will challenge contestants' "memory, stamina, dexterity, and overall mental prowess." Whomever survives this series of challenges will secure a contract position at Sony Computer Entertainment's Quality Assurance department in San Diego.
A recent Craigslist ad could very well shed light onto The Test. Here's the blurb:
Experience Female host needed for for a show revolving around the video game world. PlayStation 3 Knowledge IS A MUST. This Shoots from late October through Early November. Please include a picture, resume, contact info and any type of video link of your hosting and gaming knowledge. Also please send a long a list of your favorite PS3 Games.
And if it's not for The Tester, it's for another PlayStation heavy show. The mind reels!
Female -TV Show Host Video Gamer [Craigslist via PS3Center]