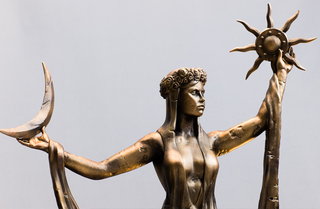 New from Bethesda, Skyrim's Shrine of Azura, available in bronze or stone finishes. See more photographs and purchasing details below:
The regular version with stone finish is available for $210:
The shrine features Azura, the Daedric Prince of Dusk and Dawn, standing majestically atop a snow covered mountain. At 1/6 scale, she measures approximately 18 inches tall, including the base, to the top of her star. Cast in high quality poly-stone, the statue is hand-finished and hand-painted.

Azura is always depicted as a female, and is also known as Mother of the Rose, Queen of the Night Sky, and the Anticipation of Sotha Sil. Azura is one of the few Daedra who might be considered "good" by mortal standards, due to her concern for her followers' well-being. Azura's plane is known as Moonshadow, a realm said to be too beautiful for mortals to comprehend.

The statue includes deluxe, full-color packaging, a hand-numbered base, and a certificate of authenticity which allows you to purchase the same model number in future releases in The Elder Scrolls Shrine Series.

Limited to 750 pieces worldwide. Images shown are representative only and final product may vary. Dimension: 18 inches Artist: Todor Kolev
The limited edition bronze finish is $230 and limited to 350 pieces.
Previously: Bioshock Infinite Elizabeth Noir Statue.
You are now looking at Screenburn, a Kotaku blog dedicated to the best gaming images, videos and GIFs online.