Over the years, players have tried to examine nearly every pixel of GTA V. These super fans have found hidden symbols, UFOs, a memorial, and even Bigfoot. While those secrets are cool, Rockstar always intended for fans to find them. Los Santos hides even more, if you know where to look.

This Arcade-y Basketball Game Brings The NBA Jam Vibes
For two years, some members of the GTAForums have tried to catalog GTA V's cut and unused content. The search has produced 5,000 posts and a large list of things that never made it into the final game. To pinpoint leads, these players have searched through hundreds of old screenshots and previews and have found ways to crack the game open in whatever way they can.
Some of the finds are minor, like a cut radio station called PMR that was going to play 90s era alt rock and grunge. But some unused content is massive, like an entire heist involving clowns.
The methods
Some of the most common ways players access in-game files is by using fan-created software like OpenIV or LibertyV. These programs allow players to dig into the code of Grand Theft Auto V in a way that Rockstar never really wanted you to. You can look at every texture in the game, every piece of text, every icon, every mission and more: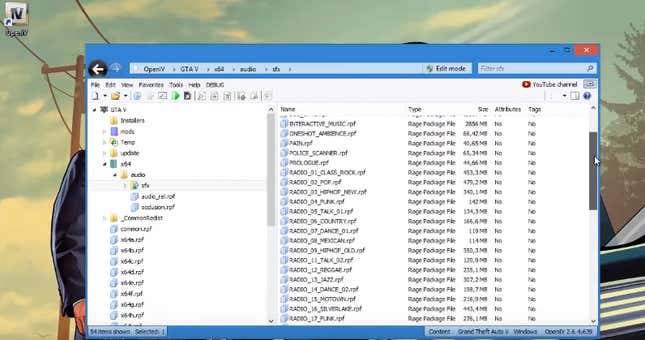 Dedicated fans have used these tools and poured countless hours into GTA V, comparing what's actually in the game to what they find in the files. Through this process, what these players uncover is a GTA V that could have been.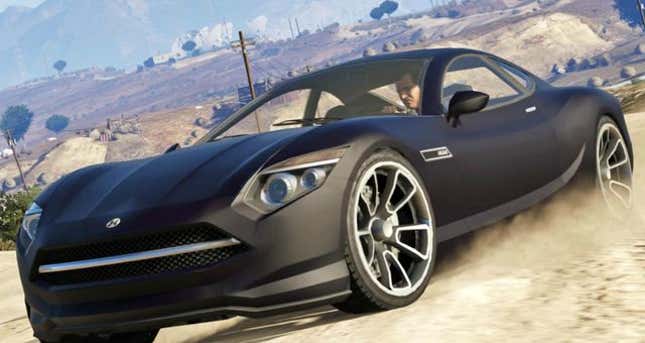 This screenshot from 2012 shows Michael driving an electric car, but when the game was released in 2013 it was only available in GTA Online.
Digging into the code to find this stuff is a tricky thing. It's easy to fall into the trap of interpreting the content and stringing out possible developer intention, despite never having official confirmation. "You don't actually see everything that happened behind the scenes," said Fun De Panda, a GTAForums user. Regardless, some fans still hold the hope that the hints hidden within GTA V may tease some of the things that Rockstar has planned for the future. That promise tantalizes players so much that there's an entire genre of YouTuber dedicated to covering possible future GTA content.
The desire to know the Grand Theft Auto V that could have been has led some fans to use strange methods to recover old or unused game assets. For instance, players know that GTA V uses different models and textures depending on how far away the player is. The closer you get to something like a building or a person, the better-looking that object becomes. This is usually referred to as the level of detail, or LOD. So from far away a building might just be a simple box with low resolution and no details, but as you drive closer its LOD changes and eventually it looks like a building.

The low-resolution models and textures can also be seen using in-game reflections. And players discovered that many of the models within the reflection weren't updated to display the correct, finalized objects, leaving a weird, alternate reality Los Santos hiding in the shadows.
Thanks to a bug in GTAV in the above screenshot you can see what these LOD models look like. This is the alternate reality that the reflection is showing.
To take advantage of this game quirk, crafty players used a shiny chrome car to locate beta and old content. If you park a chrome car near a wall or a sign, you might see a totally different sign in the reflection. Or, you might discover that the reflection of a building looks totally different from the in-game representation.
Finding such things requires the sort of grunt work that may seem ridiculous to the average GTA fan. So why go through the trouble?

Most people I spoke to said they wanted to find ways to see behind the curtain, especially considering that Rockstar Games is so secretive about their development plans. "Game development and the way games are developed has always been an interest of mine," Spider-Vice, a GTAForums user, explained to me via a private message. "This interest is piqued even more when I'm searching for stuff in my favourite developer's games."
Putting the tools to work
Modding tools not only allow fans to find cut content, but, with some work, PC players have even used these tools to bring cut content back into the game. Bringing back unfinished and old content can be a tough prospect, involving asset recreation based on magazine previews or leaked screenshots from early builds. The assets that are left behind might be out of date and barely usable, but GTA V's cut content hunters find a way regardless.

One of my favorite pieces of cut content that fans got working again was clown outfits for Michael and Trevor. These outfits were part of a cut heist called the Sharmoota Job. This heist would have involved dressing up as clowns, doing tricks at a party, kidnapping Patricia Madrazo and eventually using a prized race horse to help steal a safe. The kidnapping of the wife was kept in the game, but it was moved to a different mission—everything else was cut. What we know of the heist comes from leftover bits of mission text found in the missions.xml file and some leftover audio clips.

To get the clown outfits playable, the modder used a mix of cut clown assets and some remixing of in-game assets, like coloring Franklin's afro, to recreate the costumes as best as possible. The best part is that they come equipped with shoes that loudly squeak with each step:
Wonderful. Why did Rockstar cut the shoes?!
A closer look at what GTA V cut content hunters have found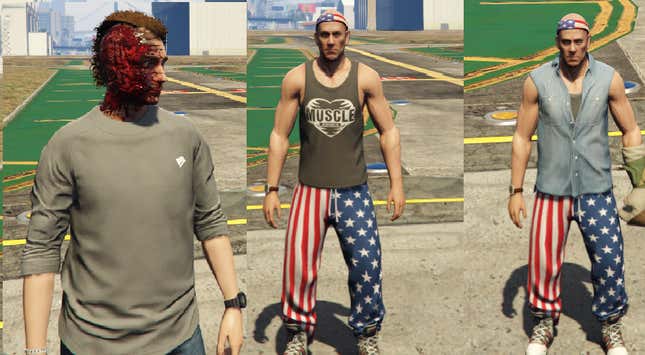 While looking for unused clothes Wildbrick also found some...interesting unused models and outfits. On the left is Jay Norris, who in a mission gets his head blown-up, but this model was never used for that scene.
The hunt for unused content seems to be fueled by the idea that users are unearthing a better but ultimately unrealized game. For example, one user named Wildbrick142 found a large number of alternate clothes and unused models in GTA V. "It really makes me curious," Wildbrick142 admitted, "where and when the characters would wear these outfits and, to be honest, it would have added the feeling that other story characters also lead their own lives."

The findings go beyond simple alternate costumes: players have also found cut missions. Some of these missions were side activities, like extra bounty hunter targets for Trevor or the fan favorite Vigilante Missions where players take on the role of a police officer and stop criminals. One of the more bizarre side activities cut from GTA V was valet parking missions, which you might remember as a side activity in GTA San Andreas.

Players also believe that at some point during development, GTA V was supposed to have more entertainment to enjoy in Los Santos as well. GTA V's text files feature references to a comedy club where players would be able to watch a mocap performance of a comedian, which is something you could do in Grand Theft Auto IV. Some crafty players have even found a way to glitch into the comedy club in GTA V, but it doesn't really have a use:

Players have also found images and text that seem to imply that you would have been able to dance the night away at nightclubs and even possibly be a DJ. Dancing was a date activity in Grand Theft Auto San Andreas and returned in the GTA IV expansion The Ballad of Gay Tony.

One of the cuts that I found to be the most disappointing was the removal of horses. Fans who have dug through GTA V can't confirm how far along in the development the horses were, but users of the GTAForums have found horseprint images, police dispatch audio referring to horses and even unused horse ragdoll code. Players also noticed that for a brief moment, a horse can be viewed during a GTA V commercial:
GTA Online's cut content
Players haven't just found cut content for GTA V, they've also discovered some unused content for GTA Online as well, like a drug trafficking system that is reminiscent of what you'd find in GTA Chinatown Wars. As discovered by Fun De Panda, players would be able to buy, sell, and transport drugs like heroin, cocaine and more. All that remains of the potential drug economy in GTA Online are some unused icons and lines of code.

By looking through more of the code and text files found in GTA Online, players also surmise that the game originally let users pick different factions. Fun De Panda described this version of GTA Online: "Cops & Crooks was the first concept of GTA Online, they planned to have it as a world with three sides you choose. The Lost MC, Vagos or the Cops."
In this "Cops & Crooks" version of GTA Online, each faction would have a boss. As explained to me by Wildbrick142, these bosses would have been able to provide players with unique services and missions. Wildbrick142 shared images with me that show the leftover code and animations referring to the different bosses. Players would have been able to contact bosses using a phone or via a computer. According to GTA V content hunters, players who chose the police faction would have even been able to arrest and handcuff other players.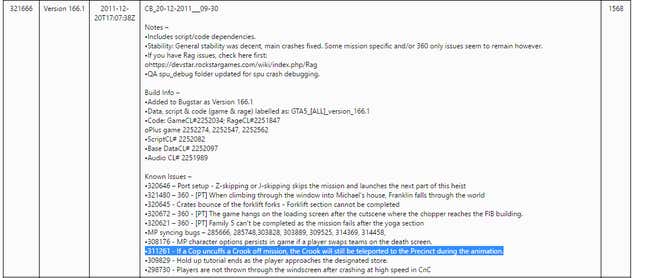 A small section from the build logs of GTA V where Rockstar is running into technical issues with players arresting other players.
A lot the information about Grand Theft Auto Online comes from build logs, basically daily/weekly reports during development on the status of the game leftover in the files. These build logs were found left on the PS3 disc version of Grand Theft Auto V by players, and they give us a glimpse into the development timeline of the game. Fans like Spider-Vice have dug through these build logs and other pieces of leftover content to find plenty of evidence that the original plan for GTA Online was less "MMO" and more team competition based. Spider-Vice found logos for certain factions, code specifying faction abilities and tattoos that only certain factions would have access to. Some fans have also found phones that police players would have used and leftover code that shows players could originally call for backup.

The jetpack
With so many dedicated fans digging through every piece of the game, you might wonder, "What about the jetpack?" Well, the users I talked to were all quick to shoot down the possibility that the jetpack even exists.

Wildbrick142 described the search for the jetpack as "nonsense" and was very clear that there is no jetpack in the game. "There is nothing to support its existence in-game." Wildbrick continued, "People are wasting their time looking for something that truly does not exist in the files at the moment—all because scribbles on a mountain show a stick figure with a jetpack." But Wildbrick and others did say that at one time there was a script in GTA V called "gadget_jetpack". This script has since been removed, and the users I spoke to were convinced it might have been Rockstar messing with fans who dig into the code of GTA V, something Rockstar has done before.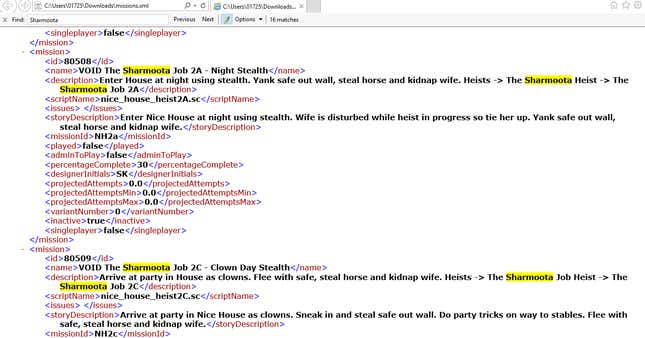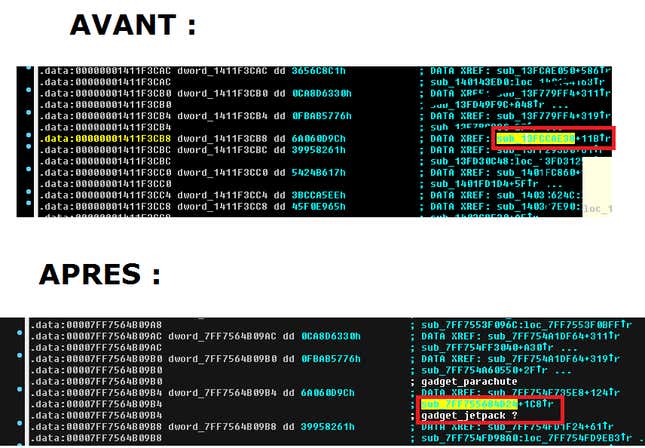 The Jetpack code that was found in the files and later removed. Getting the Jetpack in San Andreas was so much easier...
When it stops being 'cut content'
It's worth noting that many of the files and code that these fans refer to are old. Games are developed in a really messy and complicated fashion. Bits that were never meant to be permanent can remain long after a game has shipped. Sometimes an idea won't work out. Other times, game code holds traces of things that never actually got far into production, so developers don't even consider it "cut content" as much as they might general ideas that were put up on the drawing board.

Sometimes, though, players find bits of code that do eventually find their way into the actual game, months or years later. Fun De Panda gave me a recent example of this happening: "A list of coding appeared [within the game,] indicating that a flight school would be added and one of the vehicles was the hydra, [a military jet.]" When the code was discovered back in 2015, it was an exciting find for GTA fans who considered the Hydra a favorite vehicle from previous games. A few months after these fans discovered the unused code, the Hydra became available for GTA Online in the long-awaited Heists Update. It can turn out that sometimes so-called cut content is actually just a few updates away from being released.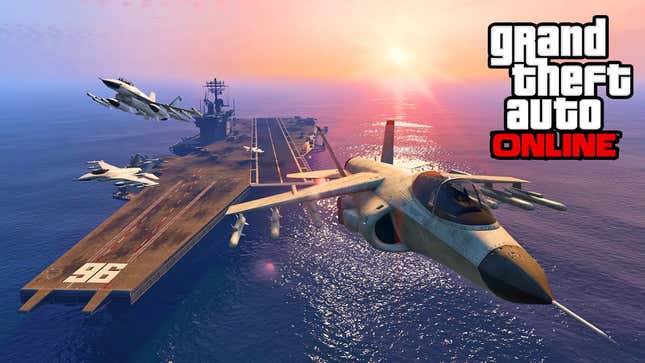 It's incidents like these that inspire GTA fans to look for cut content in the first place; they've essentially turned the news of future updates into a game they can play. GTA fans have gotten really good at playing the game, too. Months before GTA V was released the GTAForums had already figured out the map using trailers, screenshots and real world geography. Their speculation turned out to be surprisingly accurate.

The drive to uncover more
Every user I spoke to was a longtime GTA fan, with a surprising number of them spending years looking through GTA code for secrets across different releases. "The first game that I looked for cut content in was GTA San Andreas, due to the influence of other people on the GTAForums," said Spider-Vice. Other users told me stories of looking for unused pieces of content in GTA Vice City, Liberty City Stories and GTA IV. Wildbrick142 told me that players like him would use mods back then to play beta content from previous GTA games, so it's a bit of an ongoing tradition now.

For these fans, no version of GTA V is enough: they love the open-world game too much to enjoy it purely on a mechanical level. That's why these players spend hours hunting down big and small secrets alike. They want to see what could have been, and what still might be.

Honestly, in my reporting of this story, I found it easy to get sucked into the thrill of the search: El Dorado might not be real, but Los Santos is. And with every update that Rockstar makes to the game, players are finding more gold to keep the treasure hunt alive nearly three years after the release of GTA V.
Zach Zwiezen is a a writer and critic currently living in Kansas City, Missouri. He has written for Gamecritics, Killscreen and Entertainment Fuse.