Editor's Note: Imagine that there are secrets about video games buried under the soil on which you stand. The mysterious person known as Superannuation wields a shovel; so please step a little to the left and see what Superannuation is digging up just for you...
Ubisoft's Far Cry 3 was originally going to be a rather different game than the odd, paranoia-tinged open-world FPS we have seen of late, according to a listing on the portfolio of the game's original narrative director, Raphael van Lierop.
Van Lierop, who left Ubisoft Montreal towards the end of the game's pre-production in late 2009, suggests the company wanted to break away from the divisive Far Cry 2, and position Far Cry 3 as a "reboot" of the exotic, sandbox shooter franchise from the onset of the game's development. He says he worked with God of War writer Marianne Krawczyk and Lost writer Jesse Alexander to craft "a deep and mature storyline for this open-world action game, incorporating elements of LOST and with a tone inspired by one of [van Lierop's] favourite authors, John LeCarre." Internally, [Far Cry 3] was positioned as 'LOST meets The Constant Gardener'," adds van Lierop.
Le Carre's Constant Gardener is a very curious influence for Far Cry 3—particularly for a game trying to break away from Far Cry 2. While the moral ambiguities and nuances of international relations color much of le Carre's work, The Constant Gardener has a far more clearly defined sense of right and wrong, and that sort of narrative informing Far Cry 3 would have made for an interesting thematic contrast with the Conrad-inspired chaos of its predecessor.
G/O Media may get a commission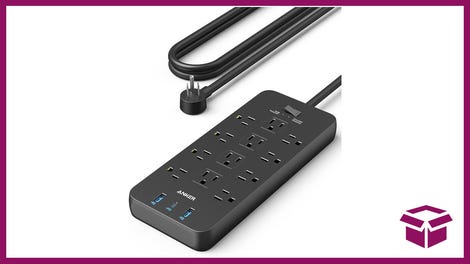 28% Off
Anker Power Strip Surge Protector
Additionally, Ubisoft was also keen "transmedia IP strategy" for Far Cry 3 at the time, including "multiple short films" that would complement the game's narrative a la Assassin's Creed: Lineage.
* * *
According to a handful of online postings, it appears Disney's Chicago studio Wideload Games is working on a mobile Marvel title for the media giant. Despite an overall strategy shift and general tumult in Disney's interactive unit, there has been nary a word about the Stubbs the Zombie creators since the release of their charming Wii game Guilty Party nearly two years ago.
A senior recruiter at Walt Disney recently posted to a USC Google Group that Wideload is "currently working on a AAA 3D mobile game [with] a Marvel IP." Also, the LinkedIn profile of a software engineer who left Wideload in June mentions that the firm's "AAA mobile game" is "soon-to-be-announced."
Alongside this mobile game, Wideload quietly developed the Marvel XP hub for Playdom's Marvel: Avengers Alliance, and they also have started work on "a prototype for a new title using a popular Disney IP."
A level designer who also left Wideload in June says he began working on this iOS game in July 2010—that nearly two years on an iPhone game, which one might assume either means this is as ambitious as something like Infinity Blade or a complete mess. Given Wideload's somewhat idiosyncratic track record, hopefully it is the former.
* * *
In recent months, Electronic Arts has been hiring for a new PopCap team at the EA Canada Burnaby campus that does not sound very much like anything that has come from PopCap before.
Among the handful of openings was one from April for a 3D animator—something that seems pretty peculiar given PopCap's history as primarily developing 2D games. However, that is nowhere near as baffling as the description of the job in the listing, which mentions that the animator is involved in the synthesis of "gameplay, storytelling and character movement" by making "emotionally believable characters that allow game players to interact with the game, whether photorealistic or stylized, in a realistic and believable fashion."
In addition, the listing states that "The Animator will be involved from idea and prototype creation and the directing of actors and stuntmen during motion capture sessions, to the final stage when animating and implementing the results into the game." Quite curiously they are also desiring candidates with experience developing console games—which is somewhat unusual since PopCap games do not typically start off on consoles.
For most companies, it would not be weird to have any of that among the copy in a job listing, but this is PopCap—the company that created the likes of Peggle, Plants Vs. Zombies, Bejeweled and Zuma, none of which probably utilized any sort of motion capture or relied on emotionally-plausible characters. So whatever PopCap Burnaby is creating probably falls outside those franchises, though some plant motion capture or further characterization of Bjorn the Unicorn would be quite interesting to see.
Perhaps slightly weirder is this listing from around the same time for a multiplayer designer. The designer is tasked with creating multiplayer levels—specifically, "creating extremely fun & polished multiplayer maps." One of the requirements for the job was "Previous experience as a Multiplayer Level Designer on a shipped shooter or action title," and the studio was looking for a candidate with "Experience designing levels where the player has a lot of freedom to manipulate the gameplay space (destruction, construction, modification)." Finally, among the requirements in the world modeler listing is the line "Experience working with a cartoon style and tone."
A cartoony, mechanically-novel and possibly multiplayer-oriented 3D action game for consoles from PopCap does sound potentially interesting.
Also of note: EA Canada's recruiter mentions in her LinkedIn that there are "top secret teams [on the campus] who are working on new Intellectual Properties." Additionally, a few openings for "a new innovative game" at the Burnaby Play4Free team have popped up in the past few weeks.
superannuation is a self-described "internet extraordinaire" residing somewhere in the Pacific Time Zone. He tweets, and can be reached at heyheymayday AT gmail DOT com.


Read more Assorted Scoopery! Secrets lurk within.