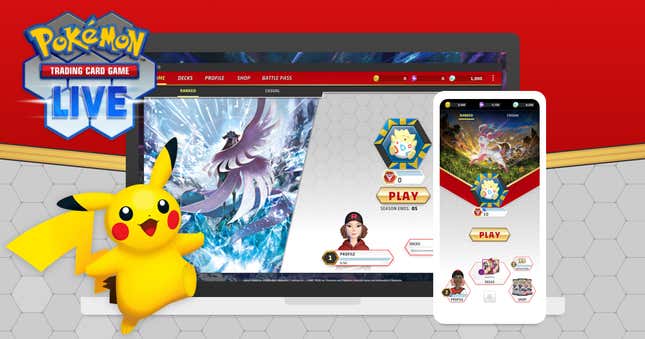 The Pokémon Company is officially migrating its online trading card ecosystem to its new app, Pokémon Trading Card Game Live, on June 8. This means if you've been playing the digital card game on Pokémon Trading Card Game Online, which has been the platform for official online play since 2011, you'll have to make the switch at the beginning of next month, as the original app is being completely removed from digital storefronts the same week.

New Pokémon Scarlet And Violet Trailer Features Hot Profs, 4-Player Co-Op, And Lechonk, The Hero We Deserve
Pokémon Trading Card Game Live has been in beta since November, and if you've already been playing the game over there, not much will change when the full game launches next month. But if you've been holding off on making the switch, you'll have to once the Pokémon Trading Card Game Online app is delisted from mobile and desktop storefronts on June 5. Players have had a bit of time to make the transition, and The Pokémon Company stopped adding new cards and packs to Online back in March. So anyone using it hasn't been able to play with cards from the recent Scarlet and Violet packs, though they will be supported in Live. The Online app will continue to support Versus Ladder reward tracks and bug fixes up until its sunsetting in June.
In the meantime, anyone who logs into Pokémon Trading Card Game Live between now and launch day will receive commemorative accessories, including a coin, card sleeves, and deck box all featuring the Global Beta logo.
All of this follows some controversy surrounding the transition between the Online and Live clients. Both apps use the same online profile, so transferring from one app to the other isn't that difficult, but Live has come under fire for drawbacks compared to Online, including a loss of in-game currency when transferring and a general lack of feature parity. On top of this, booster packs have fewer cards in Live than they did in Online, which The Pokémon Company has deemed "optimal" for the game's economy. But warts and all, this is the game online Pokémon players will have to use come June. Hopefully the bugs in the beta are ironed out, but most of all, hopefully some of these changes will be reverted to give folks a better version of the Pokémon Trading Card Game instead of a substandard one.