This week in the Nintendo Download we have three catchy new WiiWare titles, one welcome to the Fantasy Zone, and another clock/calculator combo for the DSi.
It's a triple dose of WiiWare this week, and at least two of them seem pretty interesting. You can't help but be curious about a game called Eduardo the Samurai Toaster (800 Wii points), Semnat Studios' co-operative multiplayer food shooter, and Taito's Rainbow Islands: Towering Adventure (800 points) features rainbow-spewing children, which is always a plus. The only questionable title of the three is Sega's Let's Catch (1,000 points), which presents variations on the game of catch, with special features unlocked when you own both this game and Let's Tap.
The Virtual Console adds another arcade title to its lineup today with Space Harrier (800 points), the original arcade version of Sega's classic 3-D scrolling shooter, which I've played so many times at this point I can simply close my eyes and recreate it in my head.
Finally we have DSiWare. Sad, sad, DSiWare. Remember the Animal Crossing clock and calculator they released for 200 DSi points apiece? Well now they've got Mario versions. We need to come up with some sort of term for weeks like these, when the DSi only gets utilities. How about clock-blocked?
As always, check out the official descriptions below for a more marketing-friendly view of this week's offerings.
G/O Media may get a commission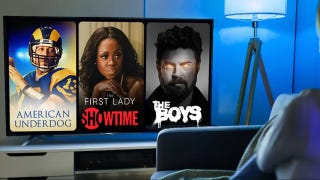 UNDER $1
99¢ Prime Video Channels
WiiWare
Eduardo the Samurai Toaster
Publisher: Semnat Studios
Players: 1-4
ESRB Rating: E (Everyone) - Mild Cartoon Violence
Price: 800 Wii Points™
Description: Fight your way through 13 diverse locations on your own or with up to three friends in this frenetic and stylish side-scrolling action game. Play as Eduardo and his fellow toaster buddies as you fire an assortment of pastries at all kinds of dastardly food products. Hop onto laser-mounted scooters and fly across the screen in rocket packs, and learn to cooperate with your teammates or simply annoy each other in an awesomely fun way by throwing each other around the screen. The choice is up to you.
RAINBOW ISLANDS™: TOWERING ADVENTURE!
Publisher: TAITO
Players: 1-2
ESRB Rating: E (Everyone) - Comic Mischief800
Price: 800 Wii Points
Description: In Rainbow Islands: Towering Adventure!, players control the rainbow-magic-wielding Bubby or Bobby as they climb the seven seamless areas of a tower reaching the heavens while defeating enemies with their rainbow powers. Bosses controlled by the scientific genius Dr. Crescent await players at the end of every area. Race through every area within the allotted time to meet the rainbow-colored Holly's Comet. There are three game modes: Story mode, which tells the tale of Holly's Comet; Challenge mode, where players attempt to climb as high as they can; and Time Attack, where players select an area and see how fast they can climb it. Rainbow Islands: Towering Adventure! is an exhilarating action game where you use rainbows to climb into the heavens.
Let's CATCH™
Publisher: SEGA
Players: 1-4
ESRB Rating: E (Everyone) - Comic Mischief, Mild Suggestive Themes
Price: 1,000 Wii Points
Description: Play catch with friends in multiplayer party games and compete for high scores using your Mii™ character and others. Choose from six different single and multiplayer modes such as Speed Catch, which tests your ability to catch a fastball, and Bomb Catch, an elimination party game for up to four players. Select from a variety of characters or use your Mii character to play other favorite catch games. Unlock special features when you own both Let's TAP and Let's CATCH.
Nintendo DSiWare
Mario™ Calculator
Publisher: Nintendo
Players: 1
ESRB Rating: N/A
Price: 200 Nintendo DSi Points™
Description: Mario and Luigi™ take a break from their normal adventures to dedicate their heroic talents to working with numbers. Mario Calculator features the full functionality of a traditional calculator, including a Memory key and the ability to display up to 13 digits, and adds a layer of atmosphere reminiscent of the original Super Mario Bros.™ Use the Unit Converter to turn one unit of measure into another (such as length, weight, volume, age and others), or track the history of calculations you've performed with ease. Listen to the Mario-related sounds and watch the coins fly as calculations are performed. Now, back to adding up those high scores...
Mario™ Clock
Publisher: Nintendo
Players: 1
ESRB Rating: E (Everyone)
Price: 200 Nintendo DSi Points
Description: Turn back time and enjoy a bit of classic game play based on the original Super Mario Bros. with Mario Clock. Help Mario and Luigi collect more coins than ever (POW block anyone?) while they run through a variety of stages. Gather enough coins and you'll be treated to another scene bound to bring back fond memories for many. Mario Clock includes both analog and digital clocks that use the system's internal clock or allow you to offset the time however you like. Program up to three alarms (with snooze functionality for those that need it) and assign them a Mario-related sound or use one created in the Nintendo DSi™ Sound application. You'll find yourself thinking "Just a few more coins..." in no time!
Virtual Console
Space Harrier™
Original platform: Virtual Console Arcade
Publisher: SEGA
Players: 1
ESRB Rating: E (Everyone) - Animated Violence
Price: 800 Wii Points
Description: "Welcome to the Fantasy Zone. Get ready!" This is the greeting given to you as you start Space Harrier, but you don't have much time to take this advice. Even as the words are being spoken, your Harrier warrior is already charging into battle. Toting a huge laser gun under his arm, the Space Harrier can either run along the checkerboard ground or freely fly through the sky. Either way, he's always heading forward into the hostile 3-D world. As you progress, hordes of strange creatures and robots fly toward you. Fast reflexes are required to dodge their incoming fire. Environmental hazards can be a problem, too. Take care not to run into any trees or stone structures. If you need a bit of a morale boost, just defeat a boss, and the narrator will remind you that "you're doing great!"