Not a side game, not a spin-off — the full console version of Skylanders: Trap Team will be available for Android, Amazon and iPad tablets on October 5, the same day it comes out on Xboxes, PlayStations and Wiis. That's never happened before.
Aside from downloadable titles like Telltale's The Walking Dead games, a console release with a full tablet version at launch is unheard of. I'm not saying Skylanders: Trap Team signals the dawning of a new age of console/tablet equality, but it's certainly a good start.
The tablet version of Skylanders: Trap Team comes packed in its own $74.99 starter pack, which comes with two Skylanders, two traps, and a special Skylanders portal designed specifically for the tablet version of the game. The portal features a notch in the base which acts as a tablet stand and — and this is very cool — a game pad custom-built by Activision just for the game.
The game itself will be available as a free download on Google Play, iTunes and the Amazon App Store. Without the starter pack, the game will allow for limited demo play with two virtual Skylanders. Syncing up the portal with a tablet containing the game unlocks the full console experience, which can be played with either the game pad (yay!) or virtual on-screen controls (boo).
G/O Media may get a commission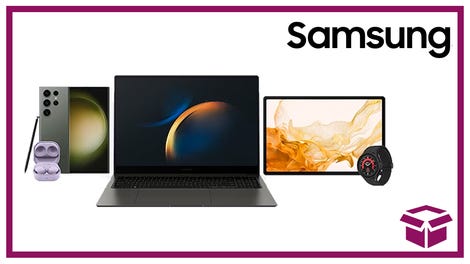 24 hour deals
Discover Samsung - Daily Deal
I had a chance to sit down with the game running on an iPad Air last weekend, and aside from the aspect ratio being off, it looks and plays exactly like the Xbox 360 or PlayStation 3 version. On lower end Android tablets the quality can dip down to that of the Nintendo Wii (a bit fuzzy), but on something like Nvidia's Shield it should run like butter.
Of course there's a price to pay for bringing the full console experience to tablets, and that cost is install size. Activision has implemented smart streaming technology in the game that can keep it around 1GB for the frugal gamer, with a full install with all 175 Skylanders characters loaded is expected to weigh in at somewhere around 6gb.
Space is a small price to pay for the full console experience on an iPad, Android tablet or Kindle Fire. Together with the portal stand and controller, it's essentially a dedicated Skylanders base station, perfect for parents who'd rather not have their children hogging the television all day long.
And it's also an excellent beginning to the age of console/tablet love.