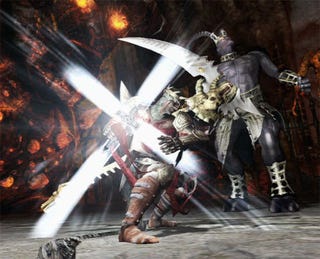 Dante's Inferno senior producer Hans ten Cate joined our hosts, Brian Crecente and Stephen Totilo, in today's episode of Kotaku Talk Radio to discuss everything you need to know about descending into the darkest depths of hell.
In case you missed the live show, which runs every Wednesday at 11AM Mountain, 1PM Eastern time, we've provided multiple convenient ways to access the latest episode post-broadcast. Whether you prefer Zune, iTunes, or good old MP3, we've got you covered below.
Topics of conversation include Dante's Inferno downloadable content, religious themes, on-the-disc DLC, and rivers of green vomit, in honor of Saint Patrick's Day.
Hosts: Brian Crecente, Stephen Totilo
Guest: Hans ten Cate
Ranter: Owen Good
Download the MP3 [Chat About It]
Listen to it [Chat About It]
Subscribe via RSS [Chat About It]
Download to your iPod or iPhone [iTunes]
Subscribe to podcast on iTunes [iTunes]
Download to your Zune [Zune]