My very favorite video game show of the year, Germany's wonderful Gamescom, kicks off in less than two weeks. Don't forget, this is the show that not only is open to everyone who pays to get in, it also features beer and takes place in a very pretty city.
Here's a quick run-down of the games we've been able to confirm will be at the show either out on the floor or behind closed doors for us journalist types.
We'll keep updating this as we nail down the rest of the publishers and what they'll be showing. (Among those not yet listed who will be there are Microsoft and THQ, but we'll be adding those soonish.)
Are you planning on going? Are you as excited as I am??
1C
Ghost of Moscow: Death of Spies
Men of War: Condemned Heroes
Real Warfare 2: Northern Crusades
Royal Quest
G/O Media may get a commission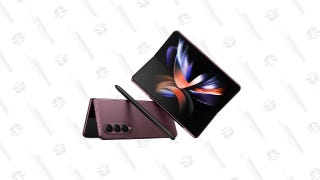 Save Up to $300
Galaxy Z Fold4
2K Games
Borderlands 2
Activision
Skylanders: Spyro's Adventure
Prototype 2
Goldeneye 007: Reloaded
Call of Duty: Modern Warfare 3
Call of Duty Elite
Spider-Man Edge of Time
X-Men Destiny
Acony
Hedone
AMD
Deus Ex 3D
Black Pants Game Studio
Tiny and Big: Grandpa's Leftovers
Blizzard
World of Warcraft: Cataclysm
Diablo III
Starcraft II: Heart of the Swarm
Capcom
Devil May Cry
Dragons' Dogma
Resident Evil Revelations
Asura's Wrath
Street Fighter X Tekken
Ultimate Marvel vs Capcom 3
Codemasters
F1 2011
CD Projekt
The Witcher 2 for Xbox 360
City Interactive
Sniper 2
Combat Wings
Deep Silver
Pirates!
Risen 2
Dontnod Entertainment
Game reveal
dtp Entertainment
Awesomenauts
The Cursed Crusade
Memento Mori 2
Winter Sports 2012 - Feel the Spirit
Handball Challenge
Crash Time 3D
EA
FIFA 12
SSX
Battlefield 3
Star Wars: The Old Republic
Need for Speed: The Run
Mass Effect 3
Reckoning
Secret World
Burnout Crash!
The Sims 3 Pets
FIFA Superstars
Theme Park
FIFA Manager
Spy Mouse
The Sims Social
Pet Society Vacations
Restaurant City
Some unannounced titles.
Fishlabs
Galaxy on Fire 2 Full HD
Focus Home Interactive
Sherlock Holmes
Of Orcs and Men
Wargame: European Escalation
Rotastic
RAW
Frogster
Eligium - The Chosen One
TERA
Runes of Magic
Hi-Rez Studios
Tribes: Ascend
SMITE
Housemarque
New iOS game
Konami
Metal Gear Solid: Snake Eater 3D
Pro Evolution Soccer 2012
Lance Mamba Global
Lucius (3D horror adventure game, PC, release: Q4 2011)
Deponia (adventure game, PC, release: Q1 2011)
Memento Mori 2 (adventure game, PC, release: Q4 2011)
Red Orchestra 2 – Heroes of Stalingrad (FPS, PC, release: August 30, 2011)
Men of War: Vietnam (RTS, PC, release: September 2011)
NEW ANNOUNCEMENTS
Microsoft
Gunstringer
Dance Central 2
Halo Anniversary
Kinect Sports: Season 2
Steel Battalion
Namco Bandai
Ace Combat Assault Horizon
Soul Calibur V
Ridege Racer Unbound
Tekken (3DS, Hybrid, Blood Vengeance)
Inversion
Dark Souls
Armored Core V
Go Vacation
Naruto Shippuden: Ultimate Ninja Storm Generations
NCsoft
Guild Wars 2
New Carbine Studios game.
Nintendo
The Legend of Zelda: Skyward Sword
The Legend of Zelda: Ocarina of Time 3D
Nival
King's Bounty: Legions
Prime World
Red 5
Firefall
Riot Games
League of Legends: Dominion
Ronimo Games
Awesomenauts
Sega
They've asked that we not say what they'll be showing. But think E3.
Sony
Uncharted 3
Vita
Starhawk
Ratchet & Clank: All 4 One
Sly Cooper: Thieves in Time
Tekken
LittleBigPlanet Vita
Journey
Ruin
Little Deviants
Sound Shapes
Medieval Moves
DanceStar Party
EyePet & Friends
Resistance 3
Several unannounced Vita and PS3 titles
Sony Online Entertainment
DC Universe Online
Payday: The Heist
Sideway: New York
Planetside 2
Spiral Game Studio
Orion: Prelude
Trion
End of Nations
Turbine
The Lord of the Rings Online: Rise of Isengard
Ubisoft
Assassin's Creed Revelations
Ghost Recon Future Soldier
Far Cry 3
The Adventures of Tintin
Anno 2070
Rayman Origins
Black Eyed Peas Experience
Rabbids Travel in Time
Just Dance 3
Driver 3DS
TinTin 3DS
Michael Jackson the Experience 3DS
James Noir 3DS
The Settlers Online
Tom Clancy's Ghost Recon Online
TrackMania 2 Canyon
Might & Magic Heroes VI
From Dust
Driver San Francisco
UIG
Steel Armor-Blaze War
Sunset
Phobos 1953
Red Rocks
Agrar Simulator 2011
Valve
DOTA 2
Warner Bros.
Bastion
Batman: Arkham City
Gotham City Imposters
LEGO Harry Potter: Years 5-7
Lollipop Chainsaw
Sesame Street: Once Upon a Monster
The Lord of the Rings: War in the North