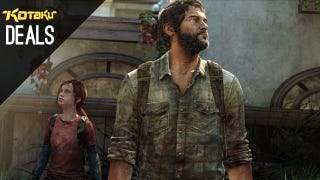 In case you haven't heard, The Last of Us is really, really good. If you still haven't played the game that went all Meryl Streep on the DICE Awards (after picking up Kotaku game of the year honors, no less), you can pick it up on Amazon today for just $30. I might have to buy myself a PS3 now just to play it.
Update: If you prefer Newegg, they have it for $28.
---
If you're looking for a cheap foothold into Nintendo's ecosystem, you won't do much better than this. You were going to buy one of the Pokémon games anyway, so this is like getting the system for $90.
---
If your Xbox Live subscription is running dry, top it up for another year. $40 is about as cheap as you're ever likely to see this.
---
Featuring 5.1 channel surround sound, 4K pass through, and fantastic reviews, the Yamaha RX-V375 receiver is an absolute steal today at $200.
---
In case you missed it over the weekend, we've got great deals on both the iPad Mini Retina and the Kindle Paperwhite. Best Buy is the proprietor of both discounts, knocking $50 off all iPad Mini with Retina Display models, and 20 bucks off the Paperwhite.
These are the Commerce Team's choices for best tablet and best e-reader, so if you're looking for either, don't hesitate.
---
Games
PC
Mac
Xbox 360
PS3
Xbox One
PS4
Vita
3DS
Apps
iOS
Android
Entertainment
Books
Home Theater
TVs and Projectors
Sound and Accessories
Headphones
Gaming Peripherals
PC Parts
Home
Inventory
---
This post is brought to you by the Commerce Team, a dedicated group of deal hunters and product enthusiasts. We operate independently of Editorial to bring you the best bargains every day, share our favorite products with you, and ask you about yours. When you buy something we recommend, we may also get a small share of the sale. We welcome your questions and want your feedback.