You spent enough money on that shiny new iPad. You shouldn't have to pay for games as well. Here's a selection of the finest free gaming the iPad has to offer.
There's a tremendous amount of free video game content available for the iPad some seven months after launch, but how do you weed through all of the low quality fluff and crippled Lite versions of more expensive titles to find those hidden gems? We'll help get you started. Once we're done, the comments section is there to share your own top picks for free iPad gaming.

Developer: USA Today
Genre: Word Puzzle
The next evolution of the newspaper crossword puzzle appears every day (except for Sunday) inside the USA Today iPad app. It's all the joy of sitting on the toilet doing the daily crossword without needing something to write on, and with hints available for players not quite as informed as your average hardcore crossword player, it's super accessible as well.
G/O Media may get a commission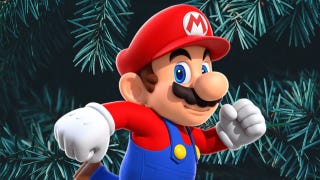 Black Friday
Nintendo Switch Deals
Extras: USA Today's iPad app is ad supported, so you'll have to deal with tiny bar advertisements at the bottom of the page, but you'll hardly notice them. As an added plus, the app also features news.
Alternate: NY Times Crossword Puzzles - The NY Times puzzle app has a larger selection of puzzles, but you eventually have to pay for a subscription.

Developer: Craig Smith
Genre:Text-based Adventure
Return to the glory days of text-based adventure games, where going north meant typing "go north." Featuring a wide selection of Interactive Fiction in the Z-Machine format including the Infocom classic Zork, and the ability to import more games from the Interactive Fiction Database, you'll be going north for a good long time. As an added plus, it looks like you're working.
Extras: Nothing here but a labor of love; no hidden charges, advertising, or anything of that sort.

Developer: Spacetime Studios
Genre: Action MMO
Pocket Legends is a massively-multiplayer online role-playing game with the action of a Diablo clone. Select from one of three anthropomorphic animal character classes and venture online to seek your fortunes with countless other players.
Extras: Players can buy in-game platinum coins for real money to upgrade their equipment and purchase special items to aid them in their adventures.

Developer : Tapulous
Genre: Rhythm
Tap Tap Radiation is the iPad installment of the popular Tap Tap series of music rhythm games. Three targets appear on the screen, and the player must tap them in time with the beat of the music in order to score points. The main game comes with five songs for free, with an additional 33 free tunes available for download in the in-game store.
Extras: Players can purchase additional premium music at modest prices. Recently a six-song Lady Gaga set was made available for only $2.99.
Alternate: Rhythm Racer HD There's less music but more action in Rhythm Racer, where a futuristic vehicle travels a three lane track, picking up globes in time to the music.

Developer: MobilityWare
Genre: Cards
There is always time for a quick game of Solitaire, and you'll find plenty of different versions for the iPad, but none quite as simple as MobilityWare's Solitaire. You loved it on the PC. Now love it on the iPad.
Extras: No ads or paid upgrades; just good clean Solitaire fun.

Developer: Metaversal Studios
Genre: Board Game
The iPad is perfect for multiplayer board games, and GameRoom delivers. More than just a series of popular board game classics like Checkers, Reversi, and Go, GameRoom gives you the pieces to create your own board games as well.
Extras: No hidden costs here, and the developer regularly updates with new game types.

Developer: Aurora Feint
Genre: Puzzle Role-Playing
It's almost like a lite version of Puzzle Quest with social aspects. Aurora Feint is a puzzle game where you connect three or more symbols to either heal your character or damage foes. Using the Open Feint system, players can recruit friends and then call on them to help battle enemies during times of need. It's a quick match-puzzle game with a purpose.
Extras: Nothing extra here, though you'll have to join the free Open Feint network to get the full effect.

Developer: Newtoy Inc.
Genre: Multiplayer Word Puzzle
Wait, isn't Words with Friends HD Free a Lite version of the full-priced online multiplayer Scrabble game? Not at all! It's an ad-supported version of Words with Friends, and as long as you don't mind a little product placement with your word puzzle games you can join the millions of players a day who log on to challenge each other's vocabulary and spelling prowess.
Extras: There's nothing more to buy, unless you find Words with Friends ads so appealing that you simply must partake of whatever they're selling.

Developer: Zynga
Genre: Social Farming
This is the popular FaceBook game FarmVille, only much easier to navigate thanks to the iPad's touchpad. The app was rocky when first released, but thanks to strong support and updates it's possibly the best way to play FarmVille out there.
Extras: As with the Facebook version, FarmVille HD players can purchase Zynga money in order to buy special items to improve their farm.

Developer: Imangi Studios
Genre: Traffic Control
Imangi Studios delivers a watery take on the incredibly popular Flight Control series, with players tracing routes for boats to take into harbor. As an added twist, once the boats are in harbor, others have to wait while the current ship's cargo is unloading, adding an additional layer of strategy to an already winning formula.
Extras: Harbor Control HD comes with one map included. Additional maps are purchasable for $.99, and players can also purchase Rewind Packs that allow them to turn back time after a crash.
Your Turn
We've shown you our picks for some of the best free iPad games available today. Now it's your turn. What free gems have you found lurking in the iTunes App Store?