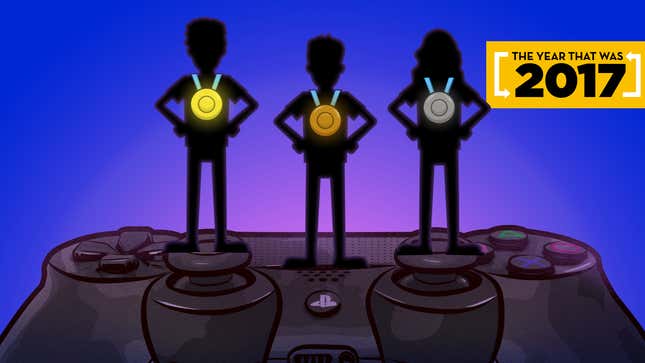 People who play video games don't just sit in the audience and watch, clap or boo. They interact and sometimes even help shape the trajectory of an artform. They do this as pro players and amateur critics, as speedrunners and community organizers, and more. Each year we highlight those who have made an impact that was huge, influential or that just moved us.

The Week In Games: What's Coming Out Beyond Cyberpunk 2077: Phantom Liberty
Here are our picks for Gamers of the Year for 2017. (You can see our picks for the last five years here).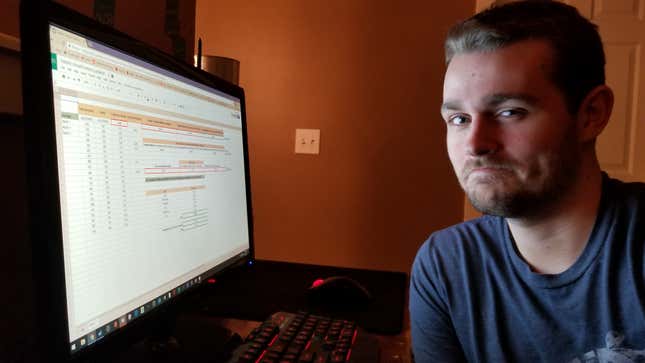 Conner "TheHotterPotato" Rust
... whose Reddit post about Battlefront 2's progression turned the rumblings about microtransactions in fall 2017's biggest games into an earthquake.
The start of the busy fall season of big new game releases produced simmering discontent among many gamers about the impact of random loot boxes on video game design. Many people just weren't into the idea of paying full price for a big new console or PC game and then being tempted with the option to spend more money to maybe get cooler characters, superior gear or other gameplay boosts or cosmetic perks.

In October, gamers were steamed about the inclusion of random loot-boxes in Warner Bros' Shadow of War game and others, ourselves included, complained about the appearance of the same in Take Two's NBA 2K18. There was also a backlash to the in-game economy of the beta version of EA's Star Wars Battlefront II. That led to an October 12 clarification and then an October 31 walkback as EA tried to convince players that, no, Battlefront II would not be pay-to-win.
Things did not settle, because along came TheHotterPotato with a November 11 message on the Star Wars Battlefront II subreddit titled "It Takes 40 hours to Unlock a Hero. Spreadsheet and Galactic Assault Statistics." He included a spreadsheet that showed, by his calculations, that the presumably launch-ready version of Battlefront II that was being sold a few days early to extra-hardcore players like him required nearly two straight days of sleepless play to unlock the privilege to play as Luke Skywalker or Darth Vader. Instead of playing that long, buying lootboxes could help you could get credits to unlock those characters. Cue EA's response and its record-setting downvotes, then its cutting of the cost to unlock the heroes, then the removal—temporarily—of micro-transactions from the game all in less than a week after that Reddit post.
"The most important thing is, it wasn't just me," Rust told Kotaku in a private message on Reddit. "The real Gamers of the Year include everyone who stood up alongside me, and asked more from a $60 experience. Everyone on the Star Wars Battlefront subreddit worked as a unit to make our voices heard, spread information around the internet and ask[ed] for our time and money investment to be respected. I see everyone in our fight that commented on a post, read an article and talked to a friend or even refunded a pre-order as a fellow Gamer of the Year." He added that he hopes people will speak with their wallets. "If we refuse to succumb to unfair post-release monetization practices, and instead purchase DLC that respects the consumer like The Witcher 3's hefty expansions, we can shape the way gaming will look in 2018 and beyond.
In the weeks that followed Rust's post, Destiny 2 players crunched numbers that would compel that game's creators to make changes, too.

Did all this activism work? Sales reports would show solid, though not blockbuster, showings in the U.S. for all of the games mired in lootbox drama. It's too soon to say if all the bad publicity and fan anger has been enough of a sting to remove loot-boxes from the plans of future big-game studios. And, as we saw from mediocre sales of Assassin's Creed Syndicate in the wake of the disappointing Assassin's Creed Unity, it's often the next game that suffers the most.

Amid all of this, the anger itself has swelled into a contentious issue, exacerbating the ever more hostile interactions between fans and game creators. Rust has tried to calm that. Some of his messages on Reddit encourage his fellow gamers to tamp down the fury and develop some empathy for the people on the other side of the equation. To one irate Battlefront II player he wrote: "While I understand your anger, we also need to keep in mind that the devs are people just like us. They're the ones that actually are going to be making the updates. So let's direct constructive ideas towards them in hopes they can help us turn this thing around!"

---
Lee "Faker" Sang-hyeok
...whose successes and struggles highlighted the highs and lows of esports competition.
Lee "Faker" Sang-hyeok, a pro gamer with a name that tends to rings a bell even for esports neophytes, remains one of the best League of Legends players of all time. His nickname is "God." But he's had a tumultuous year featuring prominent victory and notorious defeat.

This past February, Faker finally set up a Twitch channel and shattered viewership records on day one. Prior to this year, Faker exclusively streamed on Azubu, a would-be Twitch competitor that has run into financial struggles. Faker's streams, on Azubu and now on Twitch, are notorious for their silence. He plays the game without affect or any seeming emotion.

Faker's stoicism and steady focus always seem to work in his favor, and for the better part of this year, he lived up to his "God" moniker. During the final week of playoffs for the League Championship Series, Faker made his entrance on an actual throne, a surprisingly performative nod to his king-like status. Faker lived up to the hype that weekend, along with the rest of his teammates on SKT, by taking the finals 3-0. At the semifinals in October, Faker pulled out the character Galio for all five games and ended up winning several matches and proving his ability to adapt without switching away from the big tank mage.

At the 2017 League of Legends World Championships in November, everyone expected to see SKT take a fourth world championship. Instead, SKT got swatted down in a crushing 3-0 loss. Faker, renowned for keeping his emotions in check under pressure, succumbed to the agony of defeat and broke down crying after the loss. His opponents stood by and waited as Faker labored to get to his feet for the obligatory post-game handshakes. He got through it, pausing every so often to wipe the tears from his face.

League's king still seems to be feeling down. When fans voted for him to receive the 2017 Game Award for Best Esports Player, his acceptance speech illustrated his hesitation: "This year, I didn't expect to receive this award… I'll keep trying my best to show a better performance next year as well." It wouldn't be exciting if Faker won all the time, though. It'll be fun to watch him dig his way back up from this hole in 2018.

---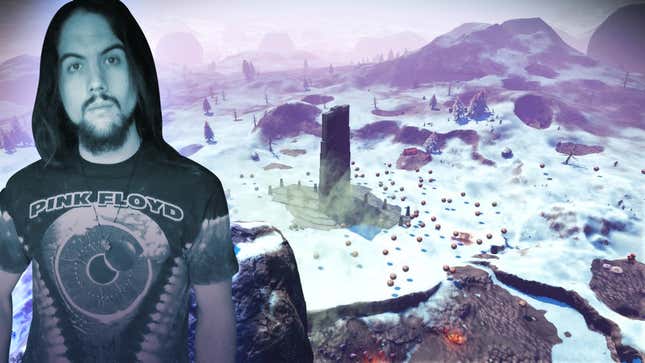 Conor "7101334" Hansen and the Galactic Hub
… a group of players who found order and delight in No Man's Sky's initial mess and then became part of the story and the game themselves.
Last year, the much-hyped space exploration game No Man's Sky turned out to be a debacle of dashed expectations. This year, the game became very good. Much of that was due to patches that improved the story, introduced basic multiplayer, fleshed out base-building, added vehicles, and more, but credit for No Man's Sky's turnaround doesn't just go to the game's directors. As NMS lead creator Sean Murray noted in a tweet early this month, the game's community proved themselves to be something special.

The players of No Man's Sky have been a big deal for a long time. In fact, we named two of them as some of our Gamers of the Year last year. In 2016 we recognized Redditors TheGalacticCactus and Psytokats who tried to meet each other in-game only to discover that Murray's claims about that being possible were misleading at best. That failure to connect led to a community meltdown and a potentially permanent stain on the game.

How fitting that a year later, a group of No Man's Sky players became a symbol of the game's redemption. Led by self-described "lead exozoologist" Conor "7101334" Hansen, the consortium of players calling themselves the Galactic Hub began mapping a section of No Man's Sky's vast interstellar expanse. They made maps and discovered new species. They even began a recruitment drive so they could expand their efforts even further.

From the game's initial chaos, the Galactic Hub found order. In a mess of a game, they found delight. By mapping and cataloguing, they established structure and made No Man's Sky a potentially better game for new players. Then the developers did what fans wanted them to do and updated the game. Title update 1.3 improved the game's story but it also changed how it generated biomes. The Galactic Hub's capital planet went from "tropical beauty" to "frozen wasteland." A race of giant creatures the Hub had documented as the largest living things in known No Man's Sky vanished. Update 1.3 improved the game, but it rendered much of the Hub's discoveries obsolete. The Hub players were nevertheless resilient and out they went to find a new home.

As the year wound down, the Hub appeared to bounce back. The game has done so as well and what was once the story of developers and players clashing gave way to a year of mutual enthusiasm.
"At this time last year, the game was only four months old (in the public eye, anyway) and the Galactic Hub was only two months," Hansen told Kotaku. "I couldn't have imagined we'd hit the triple-digits of players registered on the Galactic Hub census, let alone break 200 within just a few months." They've even became part of a new player government called The United Federation of Travelers that includes other groups playing as civs like the Hub.
Hansen believes his group has popularized "'civilization-based gameplay' within No Man's Sky, an entire set of ancillary goals based within the game which legitimately benefit your fellow players. Many other groups picked this concept up (or developed the concept independently), and through the Federation, we've had an opportunity to work with other civilizations." He and the Hub are already trying to figure out how to use newly-discovered techniques to create embassies in other civilizations and build clusters of farms. Plus, there's whatever the game's 1.4 update will bring.

A game can reveal its excellence by how it reacts to the ingenuity of its players. Weeks after the Galactic Hub abandoned their former capital planet, another player went there and began digging, discovering, to his surprise, that No Man's Sky's algorithms have preserved the digital remains of the Hub's initial settlements in an odd way. A more developer-driven appreciation of the Hub has also emerged. The game now references them in some of its quests.

---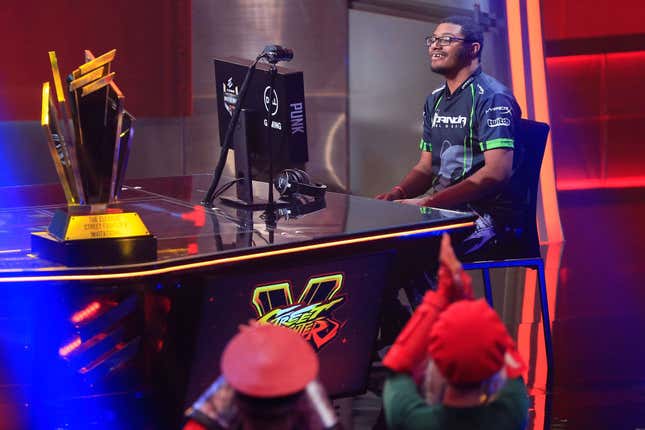 Victor "Punk" Woodley
...a Street Fighter up-and-comer who got people talking about his "alpha" persona and his precise plays
At just 18 years old, Victor "Punk" Woodley had an earth-shaking debut in the Street Fighter scene this year, astounding his opponents with a meteoric climb up the Capcom Pro Tour rankings. The teenager from Philly had played Street Fighter since childhood but didn't turn heads until October 2016, when he took third place at Red Bull Battlegrounds. Punk then got tapped to appear on Eleague's Street Fighter V invitational on TBS, and he also got signed to the esports team Panda Global.

In early 2017, Punk built up a playful persona by declaring himself "the alpha" of teabagging, a moniker that would probably not fly if not for Punk's good-natured attitude about getting trash-talked in return. He's been on the forefront of the teabagging trend that has emerged in fighting games. This sexually charged taunt has long proliferated in team shooters, but it's new to fighting games. Punk showed off the teabag on an otherwise restrained episode of TBS' Eleague, to the commentators' surprise.

By May of 2017, Punk seemed more cautious with his persona, perhaps aware of the eyes on him as he continued a speedy ascent up the Capcom Pro Tour rankings. During the final rounds at Dreamhack Austin, Punk didn't drop down a single teabag and ultimately took home the top prize. But he did also bring literal teabags with his face printed on them to throw to his fans, making it clear that the "alpha" persona was for the audience's entertainment and not intended as a sign that he didn't respect the game. Again, the bit probably wouldn't be charming if not for Punk's friendly attitude towards all of his opponents, not to mention the laborious practice that must have gone in to his careful in-game spacing with Karin.

Later that same month, Punk placed first in Eleague's SFV invitational, paving the way for an assumed victory at Evo 2017, the world's most prestigious fighting game competition. Eleague has a much bigger prize of $150,000 for the first-place winner, whereas Evo 2017 only offered $35,750. Evo is not about money, though, so much as prestige.

That added pressure could explain why Punk choked during the Evo 2017 finals. The 18-year-old phenom had kept a cool head and won tournament after tournament, including the high-stakes Eleague finals with far more money on the line. Yet in his final match with Hajime "Tokido" Taniguchi, Punk seemed nervous and hesitant, messing up spacing on moves that he'd nailed thousands of times in major tournaments all year long.

On the Evo 2017 stage, after Punk received his second-place medal, he put his head in his hands in grief. That night, he tweeted that he had "let everyone down." In response, Punk's friends and peers showed up in droves to cheer up the young pro, including the man after whom Punk had chosen his gaming handle: ex-WWE wrestler Phil "CM Punk" Brooks.

Punk has had a rocky few months since then. He placed first at Red Bull Battlegrounds last November, but got squeezed out of Top 8 at Capcom Cup 2017, instead tying for ninth place with three others. The rest of his wins at major tournaments in 2017 did secure Punk first place in the overall Capcom Pro Tour rankings, proving he has the stamina and skill to stay on top. The young up-and-comer will just have to find a way to overcome his nerves if he wants to take first place at Evo 2018.

---
Runners-up
Got picks of your own? Add them in the comments.