Zack Snyder. Guillermo Del Toro. Gore Verbinski. Michael Bay. Peter Jackson. These are just some of the top filmmakers in the world who have tried to make video games—who have said that they've got ideas that'd be great to play—yet who've mostly failed in the realm of PC, PlayStation, Xbox and Nintendo.
These Great Fortnite Creative Maps Show Us What's Possible
What follows is a litany of their struggles, a chronicle of their unsuccessful attempts to make new games or, in Jackson's case, to make a radically different type of Halo adventure.
No one ever said it's easy to make games.
We've already offered one massive rundown of cancelled and collapsed gaming projects from cinema's heavyweights. Here's the other half: the gaming failures top men behind Pacific Rim, Lord of the Rings, The Lone Ranger, Transformers and more.
G/O Media may get a commission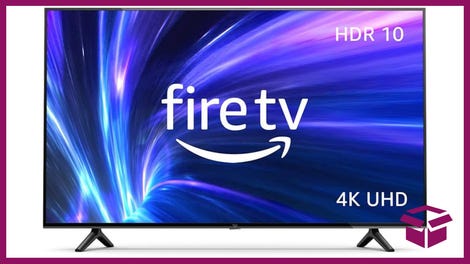 42% Off
Amazon Fire TV 50" 4K Smart TV
Guillermo Del Toro's "Sundown"
A week before E3 2006, The Hollywood Reporter broke the news that director Guillermo Del Toro was collaborating with Titan Productions and Terminal Reality on a postapocalyptic zombie horror game called Sundown. The trade said the IP "originated with Terminal Reality," but Del Toro received "the television and movie rights" as part of his deal.
Del Toro told the publication that the game would allow him to get a headstart on a sort of cinematic-interactive convergence he believed to be the future of narrative media. He also said it was important to have a deep involvement in the game's development, saying, "[He did not] want to be a name attached to a property that brings nothing new."
---
Del Toro remarked several years later that "Sundown was eerily similar to Left 4 Dead."
---
In describing the project, The Hollywood Reporter said:
Players will start as a typical person on an average day. As everything goes terribly wrong, in order to survive they must learn to form alliances with various beings and to change their role as each new challenge calls for different abilities. "We want to create a real beginning, middle and end to the game and to each set piece of the game too," del Toro said. "I want to make some of the atmospheric elements in the game very, very scary."
While discussing Hellboy video games with IGN in October 2006, Del Toro mentioned they were in talks with several publishers about possibly picking up Sundown. But Del Toro's involvement on Sundown was short-lived: the next month, he posted on a fan message board that he was "dropping out of his zombie video game project, Sundown." Del Toro didn't go into details in the message, but he "apparently was having some bad experiences with the video game industry."
Del Toro remarked several years later that "Sundown was eerily similar to Left 4 Dead," a game he said is a family favorite in the Del Toro household.
Guillermo Del Toro's "inSane"
In September 2010, Del Toro confirmed rumors of a collaboration with THQ that had been circulating for a few months prior. Del Toro was reticent to provide details on the THQ project, but hinted it was "Lovecraftian" horror title.
THQ officially unveiled the collaboration — a game titled inSane — via a vague, spooky teaser at the 2010 Video Game Awards; the teaser mentioned the game's developer, Volition, and provided a 2013 release date. After the announcement, then-THQ VP Danny Bilson tweeted that he and Del Toro had been working on the project for six months, and they "finished the [game's] story beats" the day prior.
THQ also revealed inSane was to be a trilogy, and if successive titles shared the same development cycle length as the first game, the last title would see release in 2017. Given the track record of franchises announced as trilogies, many were skeptical Del Toro's vision would ever be completed. In addition to reiterating the Lovecraftian influence, Del Toro also said inSane would have a "pulp narrative and creatures with tentacles."
---
Del Toro said InSane's Lovecraftian aspects were "really weird" and came across "in a very sick way."
---
Del Toro provided a few more vague details in an August 2011 interview with MTV. The director, who was frequently traveling to Volition's Illinois office from his Toronto Pacific Rim set, suggested inSane was a sandbox game firmly in Volition's wheelhouse. Despite the previously announced 2013 date, he didn't rule out inSane coming in 2014. He also said the game's Lovecraftian aspects were "really weird" and came across "in a very sick way."
inSane completely fell off the radar thereafter, and was cancelled in August 2012, with the rights to the IP reverting to Del Toro. Sources suggested to Kotaku that development moved from Illinois to THQ's Montreal studio in the final months. The game, however, might not be dead: in November, Del Toro said he found a studio that was going to pick up the project, though there has been no word of who the studio might be.
Peter Jackson's "Halo Chronicles" and Some New Game
At the September 2006 X06 press event in Barcelona, a month prior to the dissolution of the Peter Jackson-produced Halo film, Microsoft announced a partnership with Jackson to collaborate on a new Halo title and an original IP. Jackson and his creative team would work with Bungie to "co-write, co-design, and co-produce" the new Halo title, and Jackson and Microsoft would establish a New Zealand-based games development firm, Wingnut Interactive, to work on projects.
In a statement on its website, Bungie said the Jackson project would be "a blend of gameplay and storytelling quite unlike anything the games industry has ever seen before," and added that a "few select" Bungie staffers were already working on the title.
Then-Microsoft games executive Shane Kim briefly addressed the Peter Jackson projects during a GDC 2007 press event. Kim said both of Jackson's Xbox 360 titles would come in the form of two digitally distributed episodic series, and mentioned that Bungie was in "the design phase" of its Peter Jackson collaboration.
Although the creation of a Peter Jackson games studio was much ballyhooed, Wingnut Interactive was never established as any sort of formal organization, and Bungie basically worked with a handful of WETA concept artists, screenwriter/producer Philippa Boyens and Jackson himself, a source familiar with the title told me.
The source said Bungie's collaboration with Jackson and his team started out fairly positively, but developers at Bungie quickly felt like they were "trying to work with people from a different galaxy." Bungie's team felt like many of the ideas that WETA's staff was coming up with had little application in the Halo universe, according to the source.
---
Developers at Bungie quickly felt like they were "trying to work with people from a different galaxy."
---
Bungie's Frank O'Connor confirmed in April 2008 that they were no longer working on the Jackson project, which the posting dubbed Chronicles. The studio also said the Microsoft's then-nascent internal Halo team would handle Jackson's Halo project as its first title, as job postings had hinted.
Bungie writer Joseph Staten told Kotaku that the Jackson project lost momentum after the Halo film fell apart, and ultimately they made ODST after Chronicles fell apart. If ODST's production lasted fourteen months and Bungie finished work on the game in May 2009, I would guess Bungie stopped working on Chronicles no later than March of 2008.

Above: "Throwaway" animation previsualization from 343's iteration of the Peter Jackson Halo game
In September 2008, Microsoft snatched Kojima Productions designer Ryan Payton to serve as creative director on Chronicles, a role he ultimately wouldn't serve for long. During Comic-Con 2009, the Los Angeles Times reported that Microsoft decided to drop the Peter Jackson project "as part of budget cuts tied to company-wide layoffs [in January 2009]." Jackson's manager, Ken Kamins, told the paper Jackson's interactive efforts would go towards new original IP, though that never came together either.
Michael Bay's First-Person Shooter...And "Thundercats"?
The Los Angeles Times reported in May 2007 that Michael Bay was hoping to make the step into gaming as part of an investment group purchase of special effects firm Digital Domain he helped lead. The paper said Bay wanted to make a "first-person shooter game" with a "budget of about $25 million" to "match the quality of a feature film." The report also said the firm hoped to reorient its business strategy to "capitalize on the convergence between games and feature films," with an integrated pipeline that would service both mediums. Carl Stork, then the firm's new head honcho, said he hoped to turn Digital Domain into "the next-generation digital-content studio."
Digital Domain hoped "to develop four or five games over [a span of] two years," according to the paper. To accomplish this, the firm "[planned] to acquire one or more game firms [in 2007]," which did not occur as far as I can tell. To stand out from the crowd of cinematic games, Digital Domain said they wanted to tap into their "network of A-list directors," including Bay, David Fincher1 and Rob Cohen, whom they would allow to lead development of the games. Digital Domain also wanted to expand into computer-generated animated films, producing lower-budgeted films targeted at "teenagers and young adults."
In a post about the article, the webmaster of Bay's official site said they talked to the filmmaker "a while ago," and during that chat "[Bay] indicated he was in the process of writing the script for a video game."
---
Bay wanted to make a "first-person shooter game" with a "budget of about $25 million.
---
Digital Domain hired a small number of staff for these gaming and animation ambitions. One former staffer says on their CV that they worked on some "game concepts and proposals with high profile Hollywood directors," though it does not seem like those even made to the prototype stage. But most of the division's energies went towards a proof-of-concept for Warner Bros. for a Thundercats game and film using a common development pipeline. WB, however, declined to move forward with the project, leading Digital Domain to disband its games and animation unit.
Bay's game was actually not Digital Domain's first attempt at game development: in the mid-90s, it established a New Media division. This division's projects included several CD-ROM games and an unreleased PlayStation game Ted Shred, which was a surfing-themed spin on Crash Bandicoot.
In late 2009, Digital Domain announced it would be opening a new studio in Florida that would partially focus on games, though it's unclear if this was related to the 2007 plans. Those Florida ambitions were short-lived: Digital Domain closed down the Florida studio, which pursued feature animation rather than games, last September.
Jerry Bruckheimer's Jerry Bruckheimer Games
At the end of 2007, MTV Games, the music network's then-burgeoning interactive division, announced a rather surprising collaboration with Hollywood megaproducer Jerry Bruckheimer on a venture called Jerry Bruckheimer Games. Despite MTV's ostensible focus on music, Bruckheimer said that their projects would not necessarily be musically related.
Bruckheimer told a pre-Kotaku Stephen Totilo that he wanted "To develop some interesting games," and extend his producing philosophy to the interactive field. Bruckheimer thought he could do in games what he did for pirate movies with the Pirates of the Caribbean franchise or fighter jets with Top Gun.
More than a year later, in May 2009, Bruckheimer made his first move, hiring two executives to head up Jerry Bruckheimer Games—Jay Cohen and Jim Veevaert. Cohen, who previously served as Ubisoft's senior vice president of publishing, would be Bruckheimer Games' president of development, and Veevaert, a senior Microsoft producer who worked on Halo and Gears of War, was to be Bruckheimer Games' president of production.
In an interview with Edge, Veevaert said Jerry Bruckheimer Games would not have an internal game development team but rather serve as an incubatory and collaborative creative group creating original IPs with external developers. Veevaert and Cohen believed MTV's financial backing would allow Bruckheimer Games to gain significant traction and actually bring products to market.
The following year, Jerry Bruckheimer Games suffered a bit of a setback when its partner MTV decided to exit the large-budget gaming business. Bruckheimer Games was working on three titles at the time. One of the developers working with Bruckheimer Games was a Los Angeles studio Big Red Button Entertainment, which was seemingly collaborating on an IP called "Ten Minute Man." Another unnamed developer worked on a "vertical slice prototype [sic] of a stealth/action-shooter title for Bruckheimer Games."
Following the MTV's gaming exit, Jerry Bruckheimer Games had trouble gaining traction. In 2011, Veevaert left for Zynga, and Cohen departed in April 2012. Unsurprisingly, a spokesperson for Bruckheimer Films confirmed earlier this year that the studio closed.
Zack Snyder's EA Games
In late September 2008, Electronic Arts announced that it had struck a deal with director Zack Snyder's Cruel & Unusual Films production company under which the director would collaborate on "the development of three original EA games" alongside a team at Electronic Arts' Los Angeles studio. EA said it would own and release the properties it conceived with Snyder, but added it would work with the filmmaker "to extend the game franchises into theatrical motion pictures."
Nothing seems to have come from this deal, and Snyder had the bad timing of making a deal at the same time as the economic crisis, which caused numerous layoffs at EA, including folks at EALA. The last time Snyder spoke of the deal was a brief mention in a June 2009 LA Times article about the structural convergence of Hollywood and gaming.
In 2010, Snyder's production company filed a trademark registration for "5ive" for gaming-related usage, and the firm is still filing trademark extensions, suggesting it is something they are still considering. Though there is nothing to suggest they have yet pursued the project in any way.
Gore Verbinski's "Matter"
Just prior to the 2009 E3 convention, the Los Angeles Times revealed Gore Verbinski, who had been working on a film adaptation of BioShock, was forming a games studio called Blind Wink Games as a subset of his Blind Wink production shingle. To lead the studio, he hired Will Stahl — who led the Full Spectrum Warrior franchise at Pandemic Studios.
At the time of the announcement, Blind Wink was incubating five game concepts, and building a prototype for one. Blind Wink also had a first-look agreement with Universal, meaning that the film studio, which at the time had just released a self-financed Wanted game, had the first option to publish or finance a Blind Wink game, and if Universal passed, Verbinski could shop those games to other possible partners.
In an interview with the paper, Verbinski said he thought it was important to approach narrative as a result of interactivity, rather than seeing interactivity as a result of narrative, perhaps a common angle for many Hollywood game aspirants. Verbinski also indicated a lateral-minded title like Portal was more along the lines of what wanted to do than a big sci-fi epic like Gears of War or Halo. He said most of the game concepts were conceived internally, but one came from a fairly unusual source — Brett Gurwitz, founder of Epitaph Records and guitarist in Bad Religion.
After several years of prototype, Blind Wink reemerged in late 2011 with the announcement that the studio struck a multi-title deal with Microsoft, with the first release, a Kinect XBLA title, then slated for "late 2012."
Blind Wink's first and only project, a science-fiction puzzler Matter, was announced for a 2013 release date via a cryptic, strange announcement trailer as part of a segment featuring XBLA announcements during Microsoft's 2012 E3 press conference. The CGI trailer depicted a succession of abstract images, primarily those of a sphere navigating through a bizarre, dystopian environment.
A source familiar with Matter told me the game was "very similar to Journey in a lot of ways" in that "it was a hero's quest told without narration" and "a simple story told in very abstract way," affording a lot of latitude to the player's interpretation. However, the source dismissed any commonalities with thatgamecompany's acclaimed PSN title as purely coincidental: Verbinski conceived Matter's concept—including the abstract, dialogue-free approach—a few years prior to Journey's release.
---
Verbinski's Matter was "very similar to Journey in a lot of ways"...but the similarities seemed purely coincidental.
---
The game's protagonist was a reflective sphere seen in the trailer, which developers nicknamed Adam, the source said. According to the source, the primary gameplay revolved around navigating Adam through a variety of environmental puzzles and stealth sequences in the world of "Cube City," and players could also use power-ups to let Adam "temporarily fly, weigh more, or attack [his] enemies."
Tonally, the source said Verbinski and the developers aimed for "a horror vibe" with Matter, pointing to the "clinical creepiness" of Cube City, the environment shown in the E3 trailer. To consistently instill a sense of dread, designers prevented the player from being able to permanently defeat their in-game foes. Players were limited to "temporarily [stunning enemies] or [hiding] in a location where [enemies] couldn't get to [Adam]," stated the source.
Designers also purposely "played a lot of psychological tricks on the player" to exacerbate their sense of nervousness and unease. In trying to impart his vision, "Gore [Verbinski] would reference a lot of techniques that Stanley Kubrick employed in The Shining to help build that tension," said the source.
---
Designers also purposely "played a lot of psychological tricks on the player..."[Verbinski] would reference a lot of techniques that Stanley Kubrick employed in The Shining to help build that tension," said the source.
---
The source said the game's development quickly went off the rails once Verbinski left the team in fall 2011 to focus on production of his film The Lone Ranger, leaving the leadership of Blind Wink Games to a highly problematic development director. Although the Blind Wink Games team was only five people in size (with "about six to eight more people" at "two external studios"), there was huge turnover at Blind Wink: the source indicated "people were constantly getting hired and fired."
Under the development director, the source said production on Matter quickly fell behind schedule, and the team wasted a lot of money and time attempting to decipher his often opaque directives. At one point, the development director decided he wanted to turn Matter into a launch title for the next-generation Xbox, and rather than progressing along with development as usual, the team spent several months putting together a demo for a next-generation version of Matter. Microsoft, however, wanted the game out prior to the next Xbox's release, the source said.
Microsoft elected to cancel Matter shortly after the E3 announcement, when the team missed a monthly milestone, the source said. Blind Wink Games essentially disbanded following that decision.
Lars Von Trier's "Eden"
In June 2009, the Danish newspaper Politiken reported that a team was making Eden, a game based on provocative Danish director Lars Von Trier's intensely polarizing and immensely graphic arthouse horror film Antichrist, for release on PC sometime in 2010. Many were baffled, particularly after the film caused quite the scandal at the 2009 Cannes Film Festival, with jeers from many critics and several audience members fainting from the graphic scenes. And one Cannes award organization believed Antichrist was so devoid of any redeeming qualities that they gave the film their first-ever "anti"-award.
According to Politiken, Eden was a first-person horror-adventure game featuring the narration of Antichrist star Willem Dafoe, and picked up where the film left off. The game's developer, Zentropa Games, was a games development arm of Antichrist's production studio Zentropa, which was co-founded by Von Trier several decades ago. Morten Iversen, formerly a writer on the Hitman franchise at IO Interactive, led the development of the game, and Politiken added that "Von Trier [had to] approve the [team's] final design."
The paper also made mention of Eden's novel features. Before beginning the game, players answered "a series of questions" about their personal fears, and the game's action varied depending on how the player answered the questions. Additionally, the game streamed in real-world news clips and videos, which Politiken said would have allowed for "each playthrough [to] be unique."
In an e-mail, Iversen said Eden "was originally intended to be a companion piece to [the film]," but the development team ultimately felt Antichrist's audience was too narrow, so they decided to reposition it as a unique story-driven title appealing to people interested in games like Heavy Rain. Iversen compared the connection between Eden and Antichrist to that of S.T.A.L.K.E.R. and the Andrei Tarkovsky film of the same name: there would be elements—the setting and general universe—discerning fans would recognize, but it would still be an accessible product for a larger audience.
The game began "with a short prologue about legal and emotional repercussions" of Antichrist's events, and then tasked players with "collecting clues in a mystery that slowly unfolds—[they] unlock areas in and around the cabin [from the film]," Iversen said. In order to succeed in Eden, players had to confront their personal phobias and "explore the darkness in [the game's] universe" and within the players.
---
Von Trier's Eden would ruin "trips in the wood[s]" in the same way that Jaws ruined "beach holidays"
---
In his description, Iversen also mentioned a fairly peculiar selling point: a claim that Eden would ruin "trips in the wood[s]" in the same way that Jaws ruined "beach holidays" following its release in the 1970s.
Though Von Trier was not intensely involved with the title, Iversen met with him on a number of occasions, and said "he was thrilled by the [project]." But Von Trier had a lot of other things on his plate that took a higher priority — chiefly the work on his Antichrist follow-up Melancholia. Iversen said Von Trier himself "had played several games" such as Alone in the Dark, Half-Life 2, and a military shooter. Iversen recalled one instance in which the two discussed the common stylistic techniques found in Von Trier's Dogville and Silent Hill. But after preliminary work, Iversen indicated that Von Trier decided "he didn't want anything to do with the actual production" as he couldn't have "total creative control" on Eden.
Eden was cancelled in late 2009 after about nine months of production. Iversen said Zentropa's main entertainment business experienced a financial downturn, forcing the studio to "[lay] off half of its staff"; Zentropa decided to focus on its core offerings rather than invest further in interactive productions.
---
This article and the one before it were my attempt at collating all of the attempts of major movie-director-gaming collaborations that, for whatever reason, did not work out. I focused on Western-developed games with talent whose primary experience was in the live-action/non-animated film sphere. I have no doubt I have missed a number of Japanese-developed collaborations that fell through.
If there is a project I somehow overlooked, please don't hesitate to mention in the comments or send an email.
---
1An Esquire profile timed with the release of Fincher's 2007 film Zodiac mentioned Fincher's future aspirations included "[wanting] to make video games." The piece also said he owned both an Xbox and PlayStation, and was an ardent Madden fan who read strategy guides for the game. Nothing ever happened with regards to Fincher developing games, but there are perhaps hints about the type of games he would want to make. In a Guardian interview promoting the UK DVD release of The Social Network, he said game developers should "go back a bit, to the Aaron Sorkin way of thinking about character and motivation."
superannuation is a self-described "internet extraordinaire" residing somewhere in the Pacific Time Zone. He tweets, and can be reached at heyheymayday AT gmail DOT com. Photos in this story are from Getty Images.