Earlier this month in Tokyo, Bandai showed off some of its latest figurines. Iconic characters were recreated in sculpted plastic. Many of the figures were aimed at older collectors, and one set in particular depicted stood out: the crucifixion of the Ultramen.

Ultraman is an iconic Japanese superhero. Kids grow up watching his adventures on TV and in movie theaters. And in 1973, they marveled as the Ultraman brothers—the Ultra Brothers, if you will—were lured to the desolate Planet Golgotha and crucified. This was the thirteenth episode in the Ultraman Ace series, and it was titled "Capital Punishment! The Ultra Brothers".
Japan is not a Christian country. Only one percent of the country claims to be Christian. Yet, Taro Aso, a Catholic, became Japan's Prime Minister a few years back, and his religious beliefs were hardly a topic of political discourse. Heck, Aso wasn't even the first Christian Prime Minister in Japan. There have been seven. Not bad for a country that actually crucified practicing Christians in the 16th century in hopes of preventing missionaries from converting people—and, in turn, Westernizing the country.
And in the years following World War II, Japan was even less of an oppressively religious country. The way religion was used as part of the war effort left a bad taste in many people's mouth. Japanese people do celebrate religious holidays, pray and believe in God. However, the concept of religion doesn't weigh as heavily in Japanese society, like it does in some countries.
G/O Media may get a commission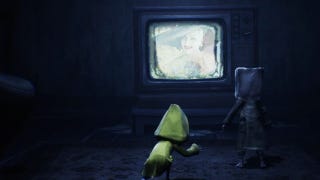 Horror Video Games to Play Leading Up to Halloween
Spooky and scary
Something video games have over their film counterparts when it comes to horror is the player's agency. Sure, watching the slasher claim their next victim can get a jumpscare out of you, but you know what's scarier? Knowing you had the power to stop it. Watching someone slowly open a door and enter a dark room is unnerving, but having to do it yourself will send shivers down your spine and paralyze you with fear.
And while today Japan seems largely indifferent towards the practice of Christianity, it certainly doesn't have much of a problem absorbing Christian holidays, such as Christmas, or getting married in chapels by a faux priest. Obviously, in both instances, all religious meaning is, by default, stripped, and these become secular.
This is probably why such imagery could appear in a children's show. Christian religious iconography does pop up throughout Japanese pop culture. And as Kotaku commenter John Paul Cassidy pointed out, Eiji Tsuburaya, the creator of Ultraman was a Catholic (his wife was a Catholic, and he later converted).
Decades after the Ultraman Ace series aired on Japanese television, the image of the Ultra Brothers' crucifixion continues to reappear in collectibles, such as this newly revealed figurine set (photos courtesy of AmiAmi).
With Japan's history of Christian martyrdom and its own reinvention during the Post War years, the crucifixion of Ultraman remains one of the most striking scenes ever to appear in Japanese pop culture.
Culture Smash is a regular dose of things topical, interesting and sometimes even awesome—game related and beyond.
(Top photo: Picmv)
---
Kotaku East is your slice of Asian internet culture, bringing you the latest talking points from Japan, Korea, China and beyond. Tune in every morning from 4am to 8am.