Taro Aso is hardly your typical Japanese politician. This is hardly your typical Japanese sake.
Aso was raised in Japan as a Roman Catholic and was educated at Stanford and the London School of Economics. He spent his twenties digging for diamonds in Africa and later worked in a Brazilian mining operation, where he learned Portuguese. In 1976, he competed in the Olympics in the shooting competition. He then served as Japanese Prime Minister from 2008 to 2009.
Now, he's talking about booze with googly-eyed characters.
A recent event was held in Tokyo's geek district Akihabara to promote "moé" sake. "Moé" is Japanese slang for the warm fuzzy feeling anime, manga and game characters give Japanese otaku. The concept of moé can be applied to real people as well!
The Japanese sake industry has been suffering in the past decade or so due to the increase in popularity of wine and Western spirits. Fewer people are drinking sake, and younger Japanese view the drink as something for old people.
In an effort to change this, sake distilleries are banding together to release "moéshu" (moé sake). To show his support of the sake industry, Aso sent this video letter to the Moéshu Summit event in Akihabara.
Characters were even created to explain the appeal of Japanese sake and appear on the bottles. Japanese sake is apparently good for the skin and even helps reduce body odor!
G/O Media may get a commission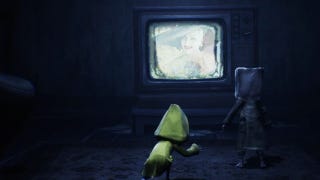 Horror Video Games to Play Leading Up to Halloween
Spooky and scary
Something video games have over their film counterparts when it comes to horror is the player's agency. Sure, watching the slasher claim their next victim can get a jumpscare out of you, but you know what's scarier? Knowing you had the power to stop it. Watching someone slowly open a door and enter a dark room is unnerving, but having to do it yourself will send shivers down your spine and paralyze you with fear.
Aso isn't a strange to nerdom. He's reportedly a fan of Rozen Maiden, and his likeness even appeared in a 2008 Japanese erotic game. While this pitch to the country's youth to drink sake might not quite add up, enlisting Aso makes perfect sense.
萌酒 [Tomulier]