I didn't expect cosmic body horror when I booted up The Crew Motorfest, Ubisoft's new racing video game. Yet, that's what I find each time I start the game. Every time I play Motorfest, the pulsating blob of humans is there, waiting for me. A horrific entity trapped inside my Xbox, unable to speak and unwilling to leave.
The Top 10 Most-Played Games On Steam Deck: August 2023 Edition
The Crew Motorfest--out now after a brief period of paid early access—isn't as good as Forza Horizon, but it's still a solid open-world racing game with fun events, cool ideas, and a gorgeous digital recreation of Hawai'i you can fully explore via car, boat, or even plane. But while Forza Horizon 5 might be the better game, it does lack something: A sickening blob of digital human flesh whose very existence mocks humanity.

For some strange reason, I really don't know why, Motorfest always forces you to start the game inside of a strange hub-like area filled with parked cars and other players walking around. They all look just as confused as me, wondering why a game about fast cars, cool boats, and over-the-top action is making them play as boring humans in a dull room. However, many people seem to not immediately leave this area, and also don't start playing or walking around right away. And because everyone spawns at the same exact point, this leads to an odd blob of humans.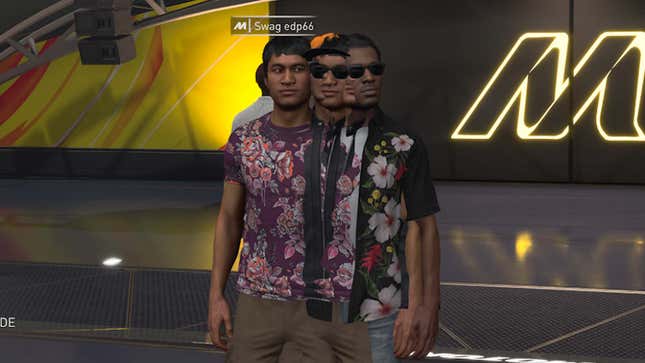 The blob moves and pulsates simply because of idle animations clipping and slipping between each other. Shirts, pants, glasses, faces, hands and jeans appear and then disappear as new humans enter the blob. Bits of one person smear into parts of another, over and over, creating something disgusting and oddly captivating.

It's hard to not sit and watch the blob. I fear that's its true goal. Soon, you may wish to join the blob after watching it shimmer and gyrate. Be careful.

I've loaded up Motorfest multiple times and each time, I discover the blob and its broken pile of limbs and shorts. It's always waiting for you. On my last encounter with the blob, I realized that I had never entered first-person mode when I spawned into the blob itself. (Yes, you always start the game in the blob, only able to play once you rip yourself out of its mess of flesh.)
So, I decided to take a look at what was inside the blob.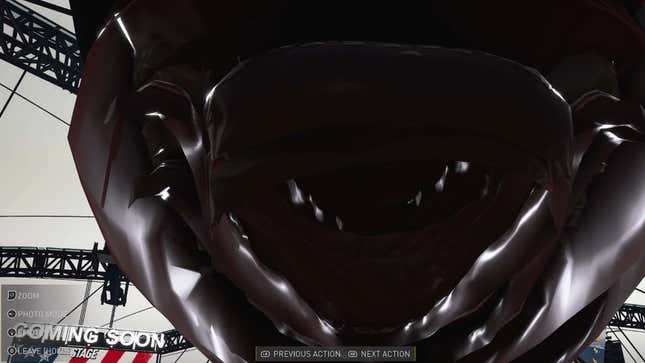 I will never make that mistake again. Instead, I'll watch the blob from outside for a few moments before remembering this isn't some new Silent Hill game and jumping into The Crew Motorfest to actually drive some cars or whatever.
But I know, no matter how fast I drive or how far I go, when I come back, I'll be greeted by the blob once more. Forever waiting. Well, until Ubisoft kills the servers one day.

Buy The Crew Motorfest: Amazon | Best Buy | GameStop | Ubisoft
.