Every year, the Entertainment Software Association (ESA) and the Academy of Interactive Arts & Sciences (AIAS) get together to select the very best in professional video game art. Here are their picks for 2014.
They'll form part of the Into The Pixel exhibition, which is held every year during E3. Just like it will this year, with every piece on display from June 10-12 at the LA Convention Center.
Some of the works below are by artists we've featured here before, sometimes even multiple times, while others are from people getting their first major exposure to a general audience. What they've all got in common, though, is that they're fantastic works of art.
Games represented include The Last Of Us, Sunset Overdrive, Watch Dogs, Rayman and The Banner Saga, while Jaime Jones deserves special congrats for making the awards shortlist two years in a row for the same game (Destiny).
Note that none of these are fan art; they're all concept or promotional art from artists working on the games.
G/O Media may get a commission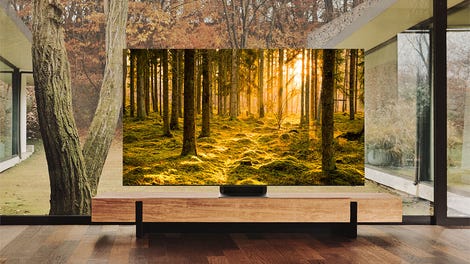 Up to 40% off
Samsung Smart TVs
---
To see the larger pics in all their glory (or, if they're big enough, so you can save them as wallpaper), click on the "expand" button in the top-left corner.
Fine Art is a celebration of the work of video game artists, showcasing the best of both their professional and personal portfolios. If you're in the business and have some concept, environment, promotional or character art you'd like to share, drop us a line!
---
THE BANNER SAGA - Arnie Jorgensen
INFAMOUS: SECOND SON - Susan Luo
THE LAST OF US - John Sweeney
DOTA 2 - Dhabih Eng, Quentin Smith
DESTINY - Jaime Jones
ASSASSIN'S CREED: UNITY - Gilles Beloeil
DISNEY FANTASIA: MUSIC EVOLVED - Jamie McKiernan
GUILD WARS 2 - Theo Prins
KILLZONE: SHADOWFALL - Kait Kybar
LUFTRAUSERS - Junkboy
RAYMAN LEGENDS - Christophe Messier, Sebastien Dujeu, Lu Yang
SUNSET OVERDRIVE - Vasili Zorin
THE ORDER: 1886 - Joe Studzinski
THE WITCHER 3 - Marek Madej
PROJET SPARK - Jedd Chevrier
RATCHET & CLANK: INTO THE NEXUS - Dave Guertin
SUNSET OVERDRIVE - Julien Renoult
TENGAMI - Ryo Agarie
WATCH DOGS - Patrick Desgreniers; Sidonie Weber; Mathieu Leduc