Tonight, many of you will be making an important choice when you pick up the re-release of Pokémon Red and Blue on 3DS: Charmander, Bulbasaur, or Squirtle?
Truthfully, there are no wrong answers here. But depending on what you're looking for, certain choices might make more sense for you than other ones.
THE CASE FOR CHARMANDER, THE FIRE STARTER
Charmander (eventually) turns into Charizard, who is widely considered one of the most badass Pokémon ever. I mean, look at this motherfucker.

G/O Media may get a commission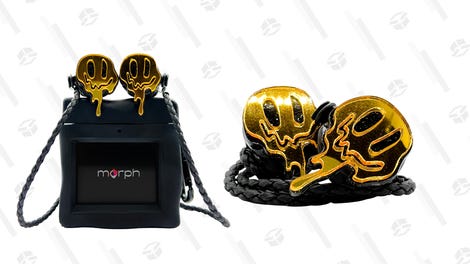 morph audio
Morph Earphones
That's the sort of majestic Pokémon that will drive fear into the hearts of every 10-year-old who makes the mistake of challenging you with nothing more than a Rattata.
Better yet, Charizard has the distinction of being the only starter Pokémon who has two different Mega Evolutions in newer Pokémon games. Remember: you'll be able to port Pokémon from Red and Blue to Pokémon Sun and Moon through the usage of Pokémon Bank, so if you want to plan for the long-term, Mega Evolutions are worth considering!
The Mega Charizard on the left increases its special attack and can make fire-type moves more powerful. The Mega Charizard on the right is an actual dragon-type Pokemon, which was always Charizard's destiny. Also, that black and blue look is killer.
THE CASE AGAINST CHARMANDER
This fiery monster has a tough time against early gym leaders, Brock and Misty. Nobody said looking cool was easy.
THE CASE FOR BULBASAUR, THE GRASS STARTER
According to Pokémon's own creators, Bulbasaur is the best choice you can make. A few years ago I interviewed Junichi Masuda, a developer who actually worked on Pokémon Red and Blue, and he said he found Bulbasaur to be the cutest pick. Moreover, he claimed that Bulbasaur's design was emblematic of everything Pokémon stands for. Bulbasaur looks like a monster you'd want to collect, basically. Its design is a classic. Heck, just listening to its in-game cry can give you tingles:
Pragmatically speaking, Bulbasaur also does well early in the game, against the rock and water type gyms.
THE CASE AGAINST BULBASAUR
Bulbasaur is a Pokémon with a cabbage on its back. It also turns into the ugliest starter evolution, Venusaur.
Eww.
THE CASE FOR SQUIRTLE, THE WATER STARTER
Squirtle is cool. Nobody can hang like Squirtle. Squirtle literally has a squad:

Scientifically speaking, Squirtle is the best choice out of the three. As Scientific American found out a few years ago, Squirtle's stats and type give it the most advantages against gym leaders throughout the entire game:

So if you want the most powerful starter Pokémon in Red and Blue, Squirtle is the way to go. Squirtle can wreck the most stuff.
THE CASE AGAINST SQUIRTLE
Squirtle turns into Blastoise, who can then mega evolve into Mega Blastoise. Mega Blastoise is the most disappointing Mega Evolution out of them all. Look at this doofus:
That big-ass cannon turns Mega Blastoise into the Hummer of Mega Evolutions. There's no finesse or subtlety to the design. Worse, Mega Blastoise doesn't always use the cannons when it shoots out powerful attacks—instead, it'll use its mouth. What's the point?
Alright, now that we're done using Very Objective Science to dissect the pros and cons of each starter, I turn to you, dear reader. Who will you pick? (Friendly reminder that it should be Charmander!)