From karate chops to roundhouse kicks, cinema has seen its share of martial arts fights. Now, it's time to look at the ones that come out on top when the others went down for the count. The best, if you like.
This article was originally published on February 11, 2015.

Obviously, making a list like this is quite a task. Saying one fight is better than another is subjective. And it would be so easy to make a laundry list that consists only of Jackie Chan, Donnie Yen, and Jet Li fights. That I have not done. Sorry!
Instead, this is comprised of a variety of different fights from over the years from different actors and directors in order to distill these scenes into a larger, all-encompassing best list. The scenes included show either a high level of martial arts skill, or in the case of some (I'm looking at you, Tarantino), an unabashed love of the genre itself.
If there are scenes I have missed, forgotten, or simply ignored, add them in the comments section below. Also note that some of the descriptions contain spoilers, so if you see a movie you haven't seen yet but plan to, you might wanna keep scrolling.

G/O Media may get a commission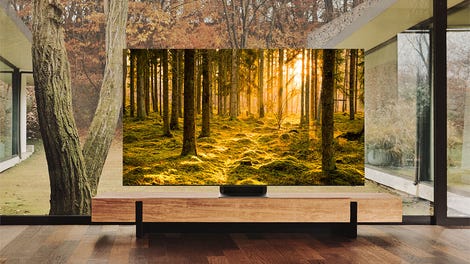 Up to 40% off
Samsung Smart TVs
The Manchurian Candidate (1962)
This was one of the first times American mainstream moviegoers, who were used to cowboy saloon brawls, had seen a karate fight scene like this. The scene blew people's minds, inspiring some cinema-goers to take up karate, much like The Karate Kid would decades later. Sure, it doesn't compare with the martial arts acrobatics of the years that followed, but it's brutal and rough. So much so that Frank Sinatra ended up with a broken hand.
Zatoichi Challenged (1967)
The incomparable Shintaro Katsu as the character he made famous, the blind swordsman Zatoichi. Sure, Beat Takeshi did a commendable job in his 2003 take on Zatoichi, but here, Katsu shows why the character will always be his—and his alone—in this elegant samurai showdown.
Fist of Fury (1972)
Geez. Can you really pick Bruce Lee's best fight? Is that possible? In his short career, Lee left a series of iconic fights. There's everything like the the Chuck Norris duel to that time Bruce Lee tangoed with Kareem Abdul Jabbar—the last of which isn't really a great fight per se, but hey, it's got Kareem in sunglasses. But the Fist of Fury dojo fight lives up to its English language title. It's Bruce Lee uncorked and let loose. Jet Li did a damn fine job in the 1994 remake Fist of Legend, which proved him as a worthy successor.
Executioner (1974)
Most men could not pull off fighting in a frilly shirt-bowtie combo. Then again, Sonny Chiba is not most men. He fights bears. He throws X-ray punches. Here, he kicks paint off dudes' faces and rips out their bones. Sonny Chiba is a karate warrior. Sonny Chiba is the Street Fighter. Sonny Chiba is fucking badass.
Master of the Flying Guillotine (1976)
That's writer-director Jimmy Wang Yu as the One-armed Boxer, facing against a character that inspired Dhalsim from Street Fighter in one of the 1970's most inventive martial arts flicks.
The Magnificent Butcher (1979)
This was supposed to be Sammo Hung's breakout film a la Jackie Chan's Drunken Master. While it didn't surpass Jackie Chan's original, the film left us with some of Sammo Hung best fight scenes. That shouldn't come as a surprise seeing that iconic martial arts choreographer Yuen Woo-ping directed the film.
Wheels on Meals (1984)
As with Bruce Lee, picking Jackie Chan's best fight sequence is difficult, if not impossible. While Chan has done bigger stunts, the Wheels on Meals fight scene with Benny Urquidez is so relentless that even watching can be exhausting. Unlike other Jackie Chan fight scenes, this one doesn't rely heavily on props and instead lets viewers marvel at Chan's and Urquidez's skills. Honorable mention to both Drunken Master II and Who Am I, among a lifetime of spectacular work.
Once Upon a Time in China II (1992)
This isn't only one of the greatest movie marital arts fights, it is the greatest martial arts fight with bamboo poles. Bar none. Here, Jet Li and Donnie Yen are at the top of their game.
Crouching Tiger, Hidden Dragon (2000)
Who knew the guy who made Eat Drink Man Woman and Sense and Sensibility could film a fight scene like this? Until the year 2000, no one.
Hero (2002)
Without a doubt, one of the most beautiful fight scenes ever filmed. Also, sadly, it keeps getting removed from YouTube.
Kill Bill Vol. 1 (2003)
Okay, so the scene is heavy on special effects, wire-work, and camera tricks. But it's such a stylish love letter to martial arts films that the scene comes together in a kinetic and satisfying way. Fun fact: Sonny Chiba's daughter is one of the Crazy 88s.
The Matrix Reloaded (2003)
While not costing $40 million dollars like the Agent Smith fight apparently did, Matrix Reloaded's chateau scene is the better for it. There's no badly aged CGI, and instead, there's a well-paced, easy to follow, and brilliantly choreographed fight—something that most Hollywood movies are unable to do.
The Protector (2005)
While Ong-Bak has Tony Jaa kick ass WHILE ON FIRE, The Protector showcases his martial arts talent in a four-minute long take that took a month of preparation. The shot was so complex that it was only possible to do two takes per day—in order to fix the set between takes. The result is the Touch of Evil or the I Am Cuba tracking shot of marital arts movies.
IP Man (2008)
A mix of over-the-top gonzo act and superb technique. This scene shows Donnie Yen using wing-chun to knock the crap out of a horde of black belts. So much skill. So much ouch.
The Raid: Redemption (2011)
The Raid's big hallway setpiece might evoke comparisons with Old Boy's big fight. But the key difference is that Old Boy's feels like a tooth-and-nail (and hammer) brawl. The Raid's is also a down and dirty brawl, but with more of a martial arts flair.
The Bests are Kotaku's picks for the best things on (or off) the internet.