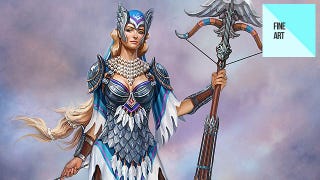 Fine Art
[Fine Art](https://kotaku.com/c/fine-art) is a celebration of the work of video game artists, showcasing the best of both their professional and personal portfolios. If you're in the business and have some art you'd like to share, [get in touch!](mailto:plunkett@kotaku.com)
Russian concept art studio Grafit may not be an outfit you've heard of—and you may not have heard of many of the game's they've worked on either—but that doesn't make their work any less beautiful.
While some of the art in this gallery is for games the non-Russians among you will have never played, like browser title God Send, Grafit have also worked for companies like EA, Microsoft, Paradox and Zynga, as well as on games like Magicka and the Il-2 series.
The studio is currently focused on providing the static art for online games, like the above-mentioned God Send, but the gallery above showcases some of their promotional and concept art for other titles as well.
You can check out more of Grafit's work at their official site.
To see the larger pics in all their glory (or so you can save them as wallpaper), right-click on the "expand" icon on the main image above and select "open in new tab".
Fine Art is a celebration of the work of video game artists. If you're in the business and have some concept, environment or character art you'd like to share, drop us a line!
---
You can contact Luke Plunkett, the author of this post, at plunkett@kotaku.com. You can also find him on Twitter, Facebook, and lurking around our #tips page.