For 13 years, I've been listing the games I've played each year. This used to be a means for me to log how many games I finished each year. These days, I use it as a way to tally the number of games I played in the past year, recommend some favorites and see how fatherhood (year two of that complete!) and other life events effects the shape of the list.

As always, I've broken the list down by platforms. Games in bold are ones that I really liked and would recommend people play. If a game isn't bolded, I may have disliked it or simply didn't play enough to recommend it.
Note that I don't tend to go back and play old games and also don't play the kinds of games—sports, fighting, racing, multiplayer shooters—that many people might keep playing regularly year after year. Instead, I mostly play new stuff or stuff that is at least new to me.
Let's see how I did, shall we?
My 2018 Gaming List
(Games I played listed below. The games I can confidently recommend are bolded.)
3DS
Dillon's Dead-Heat Breakers — I haven't finished this bizarre mix of post-apocalyptic action, adventure, combat racing, shopkeeping, and animal-mutated-Mii recruitment, but that's mostly because I tend to devote my portable gaming time to my Switch and my phone. But I sure do like Nintendo's weirder games and am happy to support a development studio that once dared to imagine creating a Tingle horror game.
Kirby Battle Royale
Luigi's Mansion
Metroid Samus Returns — I started this in 2017 and still haven't finished it. Am I really not as crazy about Metroid as I thought I was? More likely that I wasn't that hungry for a remade game and keep getting drawn back to my Switch.
My Nintendo Picross: The Legend of Zelda: Twilight Princess — Spent more time getting it than I have playing it!
WarioWare Gold — It took me a while to get over the disappointment that this wasn't a new WarioWare game to recognize how much effort went into polishing the best of the series' past. It helped to talk to the developers about it.
G/O Media may get a commission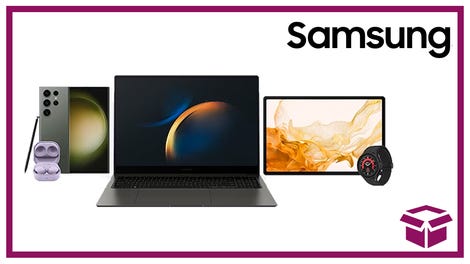 24 hour deals
Discover Samsung - Daily Deal
---
iOS
Alphabear 2
Assassin's Creed Rebellion — Its nostalgic appeal faded quickly as I encountered more of the standard mobile grind.
Cinco Paus
Dragalia Lost
Eden Obscura
Evergarden
Fidel Dungeon Rescue
Holedown
Homescapes
Kuron and the Jelly Islands
Merge Dragons
Part Time UFO
Pocket-Run Pool
The Room Old Sins
Slydris 2
Toon Blast
---
PC/Mac
Return of the Obra Dinn — I've barely played this seafaring mystery game from the maker of Papers, Please, but I loved my first hour with it and already have heard enough good things to pass along the recommendation.
Heaven Will Be Mine
The Hex
Note: I haven't been that into PC gaming since college, but any dabbling I've done dropped a lot after my kids were born, making this platform the hardest-hit casualty of fatherhood. Blame the relatively cramped conditions of living in New York City, where my only viable PC gaming setup involved hooking up a tower to my TV, an option that involves too many loose wires for toddler twins to mess with. Good thing nearly every indie game on PC that I'm interested in eventually comes to Switch!
---
PlayStation 4
Assassin's Creed Odyssey — Probably my most-played game of the year, with some 64 hours logged and plenty more islands to explore, cultists to kill and major storylines to wrap up.
Assassin's Creed Origins' expansions: The Hidden Ones and Curse of the Pharaohs — I greatly enjoyed the former's use of a skinny vertically-aligned game world and was delighted by the latter's quartet of dream worlds.
Astro Bot: Rescue Mission — Not just my favorite VR game of the year, but overall one of my favorite games of the year. It's an inventive, lively, clever third-person platformer in VR with a great, cartoony look. It's also another strong PSVR game from Sony's Japan Studio. I wish they could make more.
Beat Saber — I respect people's love for this game, but I'm not a rhythm game person and didn't like how this worked with the PlayStation Move controllers.
Call of Duty: Black Ops 4 — Given that my favorite part of Call of Duty games tended to be the campaigns..
The Crew 2
Death's Gambit — Mixed feelings on this 2D action game. I want to play it more (or hear others' takes).
Dishonored 2
Dishonored 2: Death of the Outsider
EDF 4.1: Wingdiver The Shooter
Evasion
Far Cry 5
Firewall Zero Hour — I respect the effort, but multiplayer shooters, in VR or otherwise, are just not my thing.
God of War — Update - 8:45pm: I somehow forgot to include this until readers asked me where it was. And I really liked it, too!
Hitman 2 — I played one level of it at E3, which I normally wouldn't count, but from what I've seen that level holds plays out pretty similarly in the finished game. I just can't use that as the basis to recommend it.
Iconoclasts — Bought it, liked the small bit I played, got distracted by other games, eventually bought it again when it came to Switch, haven't played it more yet.
Lego DC Super-Villains — I'm not as crazy for Lego games as I used to be, but I grew up reading DC and got a big kick out of finally seeing some of Jack Kirby's Fourth World characters in a video game. There's also a really good mid-game mission in which the Justice League splits into smaller teams to tackle challenges around the world. Very old-school and good for DC nerds of a certain age.
Marvel's Spider-Man — Seems good, but I only just got the suit with the white spider and can't yet tell if I'm going to find the game too repetitive.
Monster Hunter World — I'd love to love Monster Hunter, but I still don't.
Moss — I'm on the fence about this one. I like third-person VR games, and the mouse you control is cute and fun to control. But the environmental puzzles in the game world are not as interesting as, say, Astro Bot's.
Ni No Kuni II: Revenant Kingdom — I liked what I played but haven't played much—just got to the first large group battles. I wish they'd done more with the fact that your character is the President of the United States.
Nier Automata — Gave it another go this year and it's still not grabbing me. Wish it did, since so many people love it.
PixelJunk Monsters 2 — I was really happy to see this series come back but I must admit that my enthusiasm faded quickly due to since-patched camera issues that turned me and my co-op Monsters partner from getting as hooked on this game as we did the first a decade ago.
Red Dead Redemption 2
Shadow of the Tomb Raider — I'm puzzled by the mix of apathy and aggravation surrounding this game, which is fun to play, great to look at, and more invested in exploration than combat this time around.
Starbear Taxi
The Swords Of Ditto
Tetris Effect — This game was made for someone, just not for me.
Until Dawn
Wipeout Omega Collection (in VR)
Yakuza 0 — I liked what I played but haven't played much.
Yakuza 6 — I've barely played it but might get to it someday just to see how the baby stuff plays out.
---
Switch
1979 Revolution: Black Friday
7 Billion Humans
Aegis Defenders
Bad North
Celeste
Chasm — I tried it on PS4 and was lukewarm on it, tried it again on Switch and liked it better, but other games pulled me away.
Cluster Truck
Cities Skylines — Might not be the right platform for this, or at least I might not have been in the right frame of mind for it (yet?).
Dandara — Easily one of my favorite games of the year, this is a Metroid-style game with very unusual movement (you can't walk; can only jump; can stand on floors, walls or ceilings) and one of the most creatively laid-out game world maps I've seen in years. I highly recommend this but also urge anyone who plays to stick it out past the first couple of hours, when the movement controls will still feel new and weird and the enemies will be really tough. Keep playing and you'll get a hang of the controls and will be able to upgrade your character to better handle the bad guys.
Dead Cells
Fear Effect: Sedna
The Gardens Between — It's pretty but also very slight.
Gris
Hollow Knight
Into the Breach — I just haven't played enough of it to confidently recommend it.
Kingdom Two Crowns
Kirby Star Allies — A trio of updates greatly improved what was initially a mediocre game.
The Legend of Zelda: Breath of the Wild: Champions Ballad: I played a little of this last year but most of it in 2018. It helped to have taken a break from all things Breath of the Wild before committing to playing the expansion through. It's a good slice of Zelda but not that different than what I spent 70+ hours enjoying in 2017.
Lego: The Incredibles 2
The Messenger — Five hours in and still waiting for the expected twist before I can say whether I'm going to really like this game or not.
Minit
Monster Boy And The Cursed Kingdom
Nintendo Labo: Variety Kit
Nintendo Labo: Vehicle Kit
Overcooked 2
Picross S1
Picross S2
Pokémon: Let's Go Pikachu
Pokémon Quest
Semblance
Splatoon 2's Octo Expansion — I really wanted to love this, because I've enjoyed the Splatoon games' solo mode, but all the great visual and thematic style infused in this expansion couldn't overcome how off-putting its difficulty was. It felt like this was a side adventure made for people whose skills were sharpened by multiplayer, not for people who enjoyed the main game's relatively short solo mode and wanted more.
Starlink: Battle for Atlas — I've been playing the all-digital version of this game in fits and starts on my Switch and have had a blast flying from planet to planet, seamlessly transitioning from space combat to surface exploration, all the while treating it like a Star Fox spin-off. I hear the game gets repetitive, but the way I play it a small portion at a time while commuting and trading off with other Switch games, that's not been an issue.
Super Mario Odyssey — I had this on last year's list, too, but am including it here because I played the lion's share of it in 2018 as I wrapped up its main campaign and explored a little of its post-credits experience.
Super Mario Party — I only played the co-op raft mode but liked it enough that I'll surely use this as a go-to co-op game when friends or kids of friends are looking to play a fun game together.
Super Smash Bros. Ultimate — I don't enjoy playing fighting games and prefer playing single-player games, so I wasn't expecting to like this. I also haven't played enough of its solo mode to know if I'm going to like it that much.
Sushi Striker — I really like weird Nintendo and this sushi-eating puzzle role-playing game fits that bill very well. It's just a shame that the game plays best on 3DS (where I tried it briefly with a stylus).
Swim Out
Velocity 2X
West of Loathing
Wizard of Legend
Yoku's Island Express
---
Xbox One
Ashen — I really liked the little I've played of this action role-playing game, but I've just not played enough to recommend it.
Below
State of Decay II — I really like the the State of Decay concept of building a community to survive a zombie apocalypse, but I just haven't been able to make the time to play this game enough to keep up with its updates and give it a solid recommendation. I want to go back to it.
A Way Out — I love the concept of a co-op prison break game, but I haven't found the time or the best partner with whom to play this one through.
---
What's the biggest change in my gaming habits since I became a dad? Probably the growing list of games I've bought but not started playing. I love to get new stuff to keep up with it, but I then don't find the time to dig in.
Game I bought but still haven't played:
A Case of Distrust
Destiny 2: Forsaken
Divinity Original Sin II
Dragon Quest XI
The First Tree
Flipping Death
Forza Horizon 4
Hand of Fate 2
Last Day of June
Mark of the Ninja Remastered
Night in the Woods
Octopath Traveler
Omensight
Reigns: Kings & Queens
Sea of Thieves
Sexy Brutale
Stardew Valley
Subsurface Circular
Undertale
Wild Guns Reloaded
---
The final 2018 tally is: 102 games played.
As I suspected, the number of games I've been able to even try playing has dropped in what was my second year of being a dad. As with last year, there are a handful of games that likely sucked away time from other games. In 2017, the culprits were Zelda: Breath of the Wild, Nioh, Horizon: Zero Dawn and Assassin's Creed Origins. This past year, it was Origins again thanks to its expansions, its successor Assassin's Creed Odyssey Red Dead Redemption 2, and Hollow Knight on Switch.
That compares to:
2017… 106 played
2016...269 played
2015...138 played; 24 finished
2014...129 played; 26 finished
2013...117 played; 31 finished
2012...139 played; 23 finished
2011...161 played; 28 finished
2010... 195 played; 52 finished
2009... 165 played; 48 finished
2008… 135 played; 37 finished
2007… 118 played; 35 finished
2006… 102 played; 21 finished
I hope your year was full of interesting games. If there's stuff I missed that I just have to play, let me know.