Sushi Striker: The Way of Sushido, a new Nintendo puzzle game, is an excellent, challenging adventure set in a silly anime world where sushi is illegal. But it's a shame that players who are intrigued by that will have to decide between a 3DS version that controls better or a Switch version that looks better.

Sushi Striker was developed by Nintendo and Indieszero, the studio behind several Final Fantasy rhythm games. It was revealed for 3DS in the middle of E3 last year and is out today, on what is basically the last day before this year's E3 kicks off. In that timeframe, a Switch version was announced. That sounds fine, but the problem is that Sushi Striker was designed to play best with the 3DS stylus. That makes it great on 3DS, pretty good for slender-fingered people to play on Switch in handheld mode, and merely so-so to play with standard controls on Switch.
Like so many puzzle games, Sushi Striker is about matching things with other things. In this case, the player controls a boy or girl who faces off with an opponent in a contest of who can match the most plates of sushi with which to attack the other person. Sushi scrolls horizontally in a set of lanes which move faster as the player begins to highlight one of the plates on them. Using a stylus, your finger or the control stick and buttons, the player tries to rapidly connect as many same-colored plates of sushi as possible in seven seconds or less. This creates a stack of plates that the player can then hurl at their rival. That's it. Match plates, stack, and throw. Knock the other character's health bar down before yours is depleted.
On 3DS, you match plays with the tip of a stylus, which keeps your hand from obstructing the plates.
G/O Media may get a commission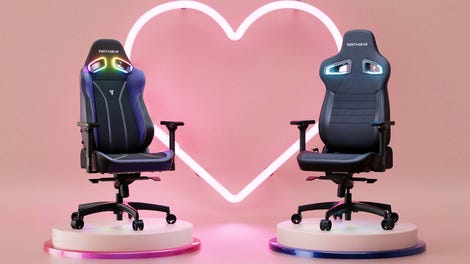 Up to $150 off
Vertagear Gaming Chairs
On Switch, you can use button controls, but I found that my fingers let me match plates more quickly. Unfortunately, my fingers also tended to obstruct several plates.
It's not game-breaking, at least not in the 35 levels I've played so far. (The game has more than 100 in total.) I'm actually having a wonderful time playing. But when I've lost close battles, I've wondered: did I miss some crucial color-match because my skinny fingers were just not skinny enough? After a couple hours of playing, you can unlock a challenge mode that gives you just 10 seconds to clear tricky, fixed arrangements of plates. I've struggled in that mode and noticed that the game expects far higher levels of performance than I feel I can achieve. I've wondered if the controls are showing their limit. There's a demo for the game on Switch, so if you're not sure if you'll like how it controls, you can download and try.
That control issue is my biggest gripe about Sushi Striker. Fortunately, it's not a big enough gripe to detract from the many things I like about the game, nor has it held me back much from making good progress in it over the past two weeks. Nintendo had sent me an early code for the game on Switch, where it costs $50, but I happily bought it again today on 3DS for $40 to test the stylus controls. I now plan to investigate buying a stylus that'll work on Switch for perhaps the optimal experience. (The 3DS and Switch have different types of touchscreens, so the 3DS' stylus won't work on Switch.)
Part of Sushi Striker's appeal is that it is very much the sort of Weird Nintendo (and weird Indieszero, of course) game that I like so much. It opens with a dramatic retelling of a great war over sushi, tells us that the main character "lost his parents in the Sushi Struggles and spent his early years in an orphanage." It introduces us to the Sushi Liberation Front and is just generally very dramatic about the state of sushi in the world.
The other, more satisfying aspect of the game is that that plate-matching system is just the foundation of a fascinating, complex puzzle system that uses the metaphor of served sushi to present deep, challenging gameplay.
It turns out that this game is not just about matching colored plates. First, different colored plates hit with different damage. You want to stack and attack with rare silver plates if you can and not waste much time stacking light blues. The sushi on the plates matter, as the more exotic pieces also do more damage. As you go through the story, you encounter some 100 sushi sprites, which are little creatures who each have special metered powers that can be activated in a sushi fight. You can go into battle with three of them. I've been playing most of the game alongside the penguin sprite Penzo, who can turn all of the sushi in front of my character into sweets that refill his health bar. Each sprite is associated with a certain set of sushi dishes, and as you play and gain experience points and thus level the sprites up, the sprites will start making better types of sushi.

And there's so much more. You can find new types of "lane-drive gears" that affect how the lanes of sushi accelerate or decelerate mid-match. You can unlock special sushi powers if you match a certain amount of one type of sushi and then designate that type as your "favorite sushi." Mine currently is Fatty Salmon, which will raise the plate-matching limit from seven seconds to eight and a half (confusing caveat: as long as a skill with a time limit is active). There's even a black belt you can wear that halves your health points but greatly increases your score if you beat the level. I'll leave it to those who play the game to learn the whole system around the so-called Sushi Jubilee.

That's a lot of complex rules, but it's all introduced gradually, one layer at a time. It's easy to follow and proves alluring. I've been excitedly recruiting new sushi sprites, unlocking new sushi powers, watching my character and his sprites upgrade their abilities and the overall menu, all the while strategizing and re-strategizing about the best load-out with which to approach my next sushi battle. I'm barely a quarter of the way into the game, and I suspect there's still even more for me to discover.
As with real sushi, I've found it unwise to binge on Sushi Striker. Most battles are similar to the ones that came before, introducing slightly more challenge along with the occasional gameplay twist. Five or six battles in a row is usually enough for one sitting, which makes this game good for commutes or winding down for the day. I'm playing it in handheld mode and consuming it in relatively short bursts, as I would most handheld games. In that sense, I'm happy to have it installed on my Switch to provide a break between some of the Switch's bigger, more involved games.
I can see myself dipping into Sushi Striker for a long time to come. I just need to get a stylus or get better at looking around my fingers. Or maybe I should switch to the 3DS. The game is good enough that I expect to have fun no matter what.